KIEV, April 21 (Xinhua) -- Visiting Chinese Vice Premier Zhang Dejiang on Wednesday said China would enhance mutual political trust with Ukraine and expand cooperation in all areas.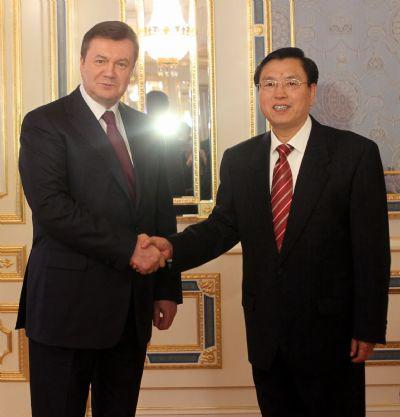 Chinese Vice Premier Zhang Dejiang (R) shakes hands with Ukrainian President
Viktor Yanukovich during their meeting in Kiev, capital of Ukraine, April 20,
2011. (Xinhua/Lu Jinbo)
During a meeting with Ukrainian President Viktor Yanukovych, Zhang said China-Ukraine relations were at a new historical starting point and China was ready to step up joint efforts to enhance mutual political trust, enrich their strategic partnership, broaden pragmatic cooperation in various fields and improve the livelihood of both peoples.
Zhang greeted the state leader on behalf of Chinese President Hu Jintao and said bilateral ties between the two countries were based on a profound traditional friendship. Both sides had high respect for each other's core interests and shared each other's major concerns, he said.
The Chinese side understood and respected the development path chosen by the people of Ukraine in accordance with their national conditions, Zhang said. China supported Ukraine's efforts with respect to its sovereignty, security and social development.
The Chinese vice premier thanked Ukraine for its support on issues concerning China's core interests and expressed his belief that both sides would continue to consolidate the political foundation of China-Ukraine ties.
Yanukovych paid his respects to Hu and expressed his gratitude to China's considerable financial contribution to the Chernobyl projects.
The president highly appreciated the smooth development of bilateral ties and the depth of political dialogue between the two countries. He said he hoped the strategic partnership was not limited to politics, but should also be reflected in economic, technological, military and other areas. He said, through the joint efforts of both sides, Ukraine-China cooperation would rise to a new level.
Related stories