WASHINGTON, April 28 (Xinhua) -- The death toll from the disastrous storms and tornados that swept through the southern United States has risen to nearly 300, with 194 confirmed fatalities in the state of Alabama alone, the latest tally showed Thursday.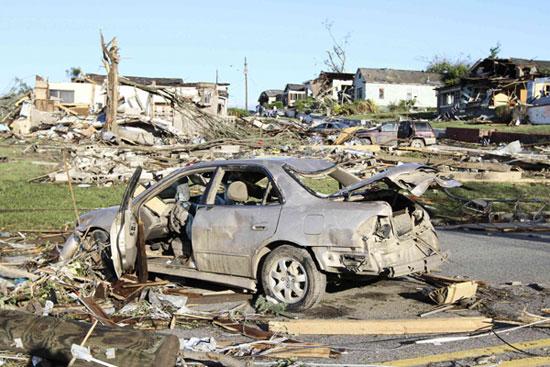 The aftermath of overnight tornadoes show destroyed homes and vehicles in Pratt City, a suburb of Birmingham, Alabama, April 28, 2011. (Xinhua/Reuters Photo)
"We have right now a total of 194 fatalities that we know. Now, those are confirmed fatalities and we only confirm them if we have a medical examiner or physician confirm the death," Alabama Governor Robert Bentley told a press conference.
In the six states including Alabama, Mississippi, Tennessee, Georgia, Virginia and Arkansas, the death toll amounted to 283, CNN reported, bringing the total fatalities across the region to nearly 300. This would be worst tornado outbreak since 1974 when a super tornado killed more than 300 people.
President Barack Obama on Thursday called the loss of life " heartbreaking," and promised to do everything he can to support the disaster relief efforts.
"We can't control when or where a terrible storm may strike, but we can control how we respond to it," Obama said during a press conference at the White House. "The federal government will do everything we can to help you recover."
Obama said he will on Friday travel to Alabama, where he will view the damage as well as meet with Governor Bentley, state and local officials and families affected by the storms.
Related stories