Prince William and Kate Middleton have been given the titles of Duke and Duchess of Cambridge to mark their wedding today.
Buckingham Palace announced at 8am on Friday that the Queen had bestowed the title of Duke of Cambridge on her grandson.
His bride, Miss Middleton, will be known as the Duchess of Cambridge after the royal wedding ceremony at Westminster Abbey.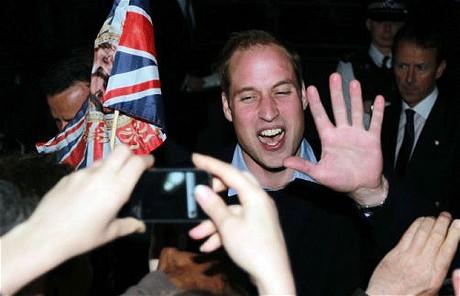 Prince William meets the adoring public outside Clarence House
(Photo: SPLASH NEWS)
A dukedom is the highest rank in the British peerage.
They have also been given the Scottish titles of Earl and Countess of Strathearn, which may reflect the fact that they met at St Andrews University.
The couple's third title is a Northern Irish one, Baron and Baroness Carrickfergus.
Buckingham Palace said in a statement: "The Queen has today been pleased to confer a Dukedom on Prince William of Wales.
"His titles will be Duke of Cambridge, Earl of Strathearn and Baron Carrickfergus.
"Prince William thus becomes His Royal Highness The Duke of Cambridge and Miss Catherine Middleton on marriage will become Her Royal Highness The Duchess of Cambridge."
It is customary for members of the Royal family to be offered at least one title by the monarch when they are married.
When the royal wedding was announced last year, it was expected that the second-in-line to the throne would be offered a Dukedom, making his wife a Duchess, and Cambridge was the favourite title.
Other possibilities were said to have included the Duke of Clarence and the Duke of Sussex.
If the Prince had turned down the titles, he would have remained HRH Prince William of Wales.
His wife would likely have been known as HRH Princess William of Wales, rather than HRH Princess Catherine, as she is not a princess in her own right.
Editor:Du Xiaodan |Source: CNTV.CN