Dirk Nowitzki scored 24 points and Shawn Marion added 14 as the Dallas Mavericks stunned the erratic Los Angeles Lakers 93-81 in Game 2 on Wednesday to take a 2-0 second-round lead over the two-time defending champions.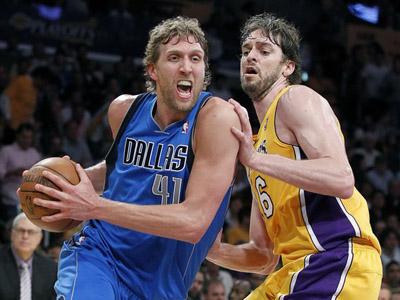 Nowitzki had a fine performance in putting the Dallas Mavericks two clear of the defending
champions.
Jason Kidd scored 10 points for the Mavericks, who pushed the Lakers halfway to playoff elimination with Nowitzki's stellar shooting, another steady defensive performance, and a decisive 9-0 fourth-quarter rally.
Kobe Bryant scored 23 points for the Lakers, who haven't lost the first two games of a playoff series since the 2008 NBA finals - which is also the last series they lost. Only three NBA teams have come back to win a best-of-seven series after losing the first two at home.
Game 3 is Friday night in Dallas.
The Lakers also could be short-handed in Dallas: Ron Artest was ejected with 24.4 seconds left for apparently striking Dallas guard Jose Barea, possibly leading to a suspension.
In Chicago, newly crowned Most Valuable Player Derrick Rose scored 25 points, and Joakim Noah added 19 points and 14 rebounds to help Chicago level the Eastern Conference semi-finals at a game each.
The top-seeded Bulls shook off a dismal performance in the opener and looked more like the team with a league-best 62 wins, building a 14-point lead and ending the game on a 9-2 run after the Hawks got within six.
Jeff Teague had another good game filling in for the injured Kirk Hinrich with 21 points, but Joe Johnson and Jamal Crawford struggled after coming up big in the opener for Atlanta. Johnson's output dipped from 34 points to 16, while Crawford had 11 after scoring 22 in Game 1.
Now, the series shifts to Atlanta for Games 3 and 4 on Friday and Sunday, with Chicago at least in better shape after a 103-95 loss in Game 1.
The night began with Commissioner David Stern presenting the MVP trophy to Rose, the youngest player to win the award.
Related stories
Editor:Du Xiaodan |Source: CRI