WASHINGTON, May 10 (Xinhua) -- U.S. Treasury Secretary Timothy Geithner is an old China hand who probably would not pass on any chance to showcase his fluent Mandarin.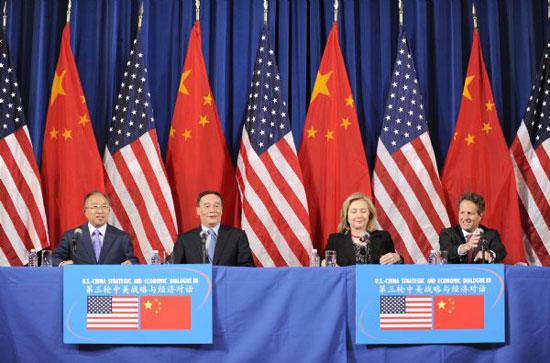 (L to R) China's State Councilor Dai Bingguo, China's Vice Premier Wang Qishan, US
Secretary of State Hillary Clinton and US Treasury Secretary Tim Geithner jointly meet the
press in Washington, the United States, on May 10, 2011. (Xinhua/Zhang Jun)
But when he used a Chinese proverb "you fu tong xiang, you nan tong dang" - meaning "share burdens together, meet challenges together" in English - at the opening session of the third round of the China-U.S. Strategic and Economic Dialogue here (S&ED) on Monday, he did it rather to sum up the desire of both the American and Chinese delegations for mutual benefit and cooperation.H After two days of intense discussions, that spirit of cooperation has resulted in a sweep of agreements concerning trade, investment, financial reform, military and security.
Chief Chinese delegate Vice Premier Wang Qishan described the talks as a "great success" while U.S. Secretary of State Hillary Clinton called them "productive and comprehensive," with a long list of agreements and understandings reached.
CONSENSUS ON ECONOMIC ISSUES
On the economic track of the dialogue, co-chaired by Wang and Geithner, both sides agreed they made progress on a wide range of topics such as currency exchange rate, fairer competition, more balanced trade, and stronger economic cooperation.
More importantly, the two sides signed a China-U.S. comprehensive framework for promoting strong, sustainable, and balanced economic growth and cooperation.
Chinese Deputy Finance Minister Zhu Guangyao said the key document is a "milestone" for China-U.S. economic cooperation.
Huang Shengzhong, a professor at China's Southwest University of Political Science and Law, told Xinhua that the framework has demonstrated that China and the U.S. share the will for even broader and closer economic cooperation.
According to the framework document, the economic relationship between China and the U.S. is based on a wide range of common and overlapping interests.
Each recognizes that "the health and continued growth of the other's economy is indispensable to its own prosperity."
Both countries also pledged to "promote more extensive economic cooperation, from a strategic, long-term, and overarching perspective, to work together to build a comprehensive and mutually beneficial economic partnership."
Prior to the opening of the meeting, China and the U.S. had been at odds with each other over China's currency evaluation.
The United States complained that China had undervalued the RMB, and urged Beijing to appreciate its currency. China, on the other hand, said America's quantitative easing policy and huge budget deficits are the major reason for causing the problem and endangering China's large dollar assets.
To bridge the differences, the two nations pledged in the framework to "work with other nations to maintain a stable international monetary environment. The United States promises to keep vigilant against excess volatility in exchange rates while China to continue to enhance the flexibility of RMB exchange rate."
Another major accomplishment achieved by the two countries in the dialogue was to sustain fair competition for their companies and investors. The issue has been a controversial one for both countries.
The U.S. accused China of not giving its firms the same equal treatment that China's state-sponsored enterprises enjoy. China stoutly denies the accusation.
Seeking to settle their disputes, the two nations, according to their agreement, are committed to "fostering open and fair investment environments, and continuing to promote transparency and for investors of both countries."
In an apparent concession to Chinese demands, the United States promised China to relax its high-tech exports controls towards China and to grant China market economy status in an expeditious and a comprehensive manner, said Wang.
"We're very confident we're going to see substantial, ongoing improvement in the opportunities that American companies have in the Chinese market, both American companies operating in China and companies that are creating, building things in the United States," Geithner said.
Yao Wei, an economist with France's Societe Generale, told Xinhua that the third S&ED is quite fruitful, suggesting that bilateral economic cooperation has achieved substantial progress.
EXTENDING MUTUAL TRUST TO OTHER FIELDS
The S&ED was first proposed in April 2009 by Chinese President Hu Jintao and his U.S. counterpart Barack Obama during their initial meeting in London on the sidelines of the Group of 20 summit.
The annual talks would bring together the economic, diplomatic and security elite from both nations. The dialogue mechanism was upgraded from the former Strategic Dialogue and biennial Strategic Economic Dialogue, initiated by the two countries in 2005 and 2006, respectively.
This year for the first time, Chinese and U.S. military generals sat face to face to discuss regional and global security matters in a newly inaugurated strategic and security talk put under the S&ED.
General Ma Xiaotian, the PLA deputy chief of the general staff, and Defense Undersecretary Michele Flournoy as well as Chinese Deputy Foreign Minister Zhang Zhijun, U.S. Deputy Secretary of State James Steinberg, and other officials from both countries attended the talk.
According to a published outcome of the meeting, the two sides share a wide range of common interests with a mutual goal of maintaining peace, stability, and prosperity in the Asia-Pacific region, and decided to establish a U.S.-China consultation concerning the Asia-Pacific. The two countries intend to hold the first session at the earliest time this year.
Clinton said the growing dialogue mechanism reflects the complexity and the importance of China-U.S. ties.
The newly-integrated dialogue mechanism is particularly important against the backdrop that military communications between China and the United States have witnessed ups and downs during the past few years.
American arms sales to Taiwan have been the major factor disrupting cross-military interactions.
Zhou Qi, an expert on America with China's Academy of Social Science, said told Xinhua enhancing military communications is essential for both China and the United States.
"Compared to their exchanges in other areas like trade and culture, inter-military exchanges have been left far behind," Zhou said. "Whenever there is a problem between the two nations, military link would be the first to break off and the last to resume."
Zhou said such a dialogue would build mutual trust step by step so that the two nations could know more about the other's intentions through better communications and reduce possible miscalculations.
She also said that globalization also demands that China and the U.S.work together, especially in areas such as counter terrorism, the drug and organized crime, and nuclear non-proliferation.
Besides achievements related to economic and security sectors, both countries have achieved altogether a list of 48 outcomes also concerning areas like energy, environment, climate change and technology, demonstrating the width and depth of bilateral collaboration, said Zhang Zhijun.