BEIJING - China's new yuan lending in April stood at 739.6 billion yuan ($113.8 billion), 8.8 percent higher than that in March, despite frequent moves to mop up liquidity and curb inflation, according to data released by the central bank on Wednesday.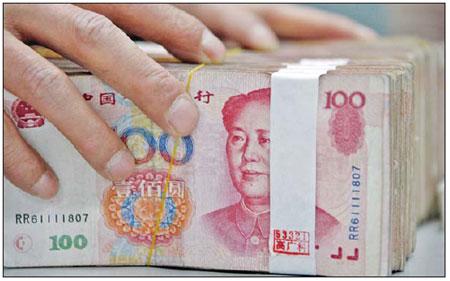 China's new yuan lending rose 8.8 percent in April on a monthly basis, despite the
government's frequent moves to curb liquidity. [Photo / China Daily]
The figure showed a slight decrease of 20.8 billion yuan from a year earlier, but it exceeded the general market expectation, said China International Capital Corp Ltd in a research note.
"We need to notice that although new lending has already shrunk a lot compared with that in 2009 and 2010, the current level is still very high compared with the normal level before the financial crisis, which indicates the growth rate of loans will probably continue to fall in the future," it said.
Lu Ting, an economist at Bank of America-Merrill Lynch, said usually the first month of each quarter witnesses stronger lending than usual.
Chinese banks extended 1.04 trillion yuan of new loans in January amid the country's efforts to tame excess liquidity and rising inflation.
E Yongjian, an economist at the Bank of Communications, said that compared with the new lending in January, the figure in April is moderate, indicating the credit level is becoming more stable under tightening measures such as higher reserve requirement ratios and differentiated requirements for lenders to control their lending pace.
Lu predicted new yuan lending in the second quarter will reach 2.16 trillion yuan, about 30 percent of the 7 to 7.5 trillion new yuan loans through the whole year.
By the end of April, outstanding yuan-denominated loans rose 17.5 percent year-on-year to 50.21 trillion yuan, the central bank said, which is 0.4 percentage points lower than one month earlier.
China's "moderately loose" monetary policy, adopted in 2008 to combat the fallout of the global financial crisis, has generated the problem of excess liquidity, and resulted in surging inflation.
New yuan-denominated lending reached 7.95 trillion yuan last year, exceeding the government's target ceiling of 7.5 trillion.
To soak up excess liquidity and fight inflation, in April, the central bank raised interest rates for the fourth time since October, and increased the reserve requirement for lenders for the fourth time since the beginning of this year.
M2, a broad measure of money supply that covers cash in circulation and all deposits, increased by 15.3 percent year-on-year to 75.73 trillion yuan by the end of April, 1.3 percentage points lower than that in March.
China's consumer price index (CPI) rose by 5.3 percent in April year-on-year, 0.1 percentage point lower that the 32-month high seen in March, the National Bureau of Statistics (NBS) said on Wednesday.
Barclays Capital said it continues to believe policy-tightening needs to be firmly in place at least in the second quarter, while the probability of over-tightening or a hard landing remains small.
It expected one more benchmark rate hike in the second quarter, sometime in late May to early June, and another rate hike in the third quarter, depending on inflation dynamics.
"Quantitative measures will continue to play an important role in policy tightening, to withdraw liquidity and control the pace of lending," said Chang Jian, an economist at Barclays Capital, predicting at least one more reserve requirement ratio hike in the second quarter, given the large amount of bills and repurchasing agreements set to mature over the next couple of months.
There's still room for further interest rate hikes, Li Daokui, an adviser to the monetary policy committee of the central bank, was quoted by the Shandong Business Daily on Wednesday as saying.
He said the interest rates still need two to three rounds of adjustments to curb inflation expectation, adding that inflation will stop slightly above 4 percent, it reported.
Editor:Wang Xiaomei |Source: China Daily