Google Inc's lucrative online advertising system is facing a US Justice Department probe that is expected to cost the Internet search leader at least US$500 million.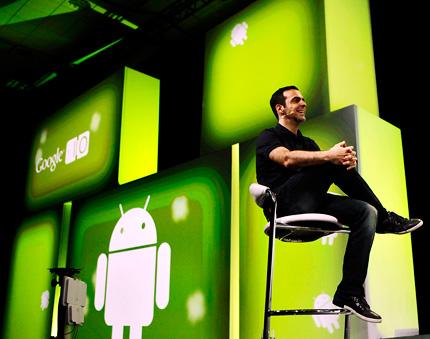 Hugo Barra, the company's product management director, speaks during a keynote speech at
the Google IO Developers Conference in San Francisco, California, on Tuesday.[Shanghai
Daily]
The disclosure made by Google on Tuesday in a quarterly report to the United States Securities and Exchange Commission serves as the latest reminder of the intensifying regulatory scrutiny the Internet's most powerful company faces.
European regulators have opened a wide-ranging probe into whether Google unfairly manipulates its search results to favor its own services and rigs its ad system to drive up prices. The Texas attorney general also has been looking into complaints about whether Google's search recommendations stifle competition.
The SEC documents filed on Tuesday provided few details about the nature of the Justice Department's inquiry except that it involves how Google's automated system has been treating some unnamed advertisers. Google's ad network, which primarily delivers short text ads alongside search results and other Web content, is the main way the company makes money. In just the first three months this year, Google sold US$8.3 billion in advertising.
Dealing with the ad probe apparently won't be cheap. In its SEC filing, Google said its management decided earlier this month to set aside US$500 million to cover a possible settlement. That move resulted in a charge that lowered the first-quarter earnings that Google announced in mid-April. With the change, its net income fell from the previously reported US$2.3 billion to US$1.8 billion.
Earlier, Wall Street had panned Google's first-quarter results because of rapidly rising expenses that are outpacing its revenue growth.
Related stories
Editor:Wang Xiaomei |Source: China.org.cn