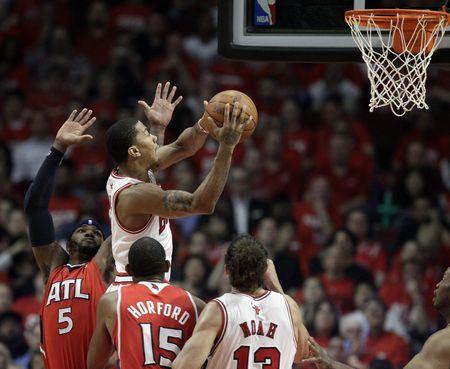 Chicago Bulls' Derrick Rose (top) drives to the basket against the Atlanta Hawks. Photo: CFP
NBA Most Valuable Player Derrick Rose scored 33 points to lead Chicago to a 95-83 victory Wednesday that put the Bulls one win away from reaching the NBA's Eastern Conference finals.
Luol Deng added 23 points for Chicago, who took a 3-2 lead in the best-of-seven second-round playoff series.
The last time Chicago reached the conference finals was in 1998, when superstar Michael Jordan and Scottie Pippen completed their second NBA title three-peat.
Taj Gibson came off the bench and scored 11 points for the Bulls, all in the fourth quarter. Rose also scored 11 in the fourth, as Chicago outscored the Hawks 26-15 in the period.
Jeff Teague, playing in place of injured Kirk Hinrich, had 21 points and Josh Smith added 16 points for the Hawks.
Joe Johnson scored 15 and Al Horford chipped in 12 points and 10 rebounds for Atlanta.
While Rose became the youngest MVP in NBA history as he helped the Bulls build the league's best regular-season record, Chicago have had their struggles in these playoffs.
They gave themselves the upper hand over Atlanta, however, with a solid fourth quarter.