North Korea is best known as a land of secrets, with less attention paid to its cuisine or art. While many North Koreans have migrated to other regions, they have maintained the cultural characteristics of their heritage.
Koreans are a common ethnic group in China's northeastern provinces, but they have yet to open a restaurant in Beijing. For a taste of this ethnic group's cuisine, you can head to the Beijing branches of the Pyongyang-based Hae Dang Hwa restaurant.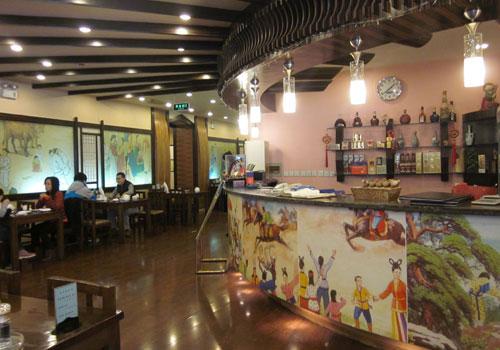 Traditional Korean art is displayed on walls and the front of the reception desk
at Hae Dang Hwa Restaurant. [Photo: CRIENGLISH.com]
Much of the menu is comprised of rare and exotic foods, all with special ingredients and seasonings imported from North Korea. The food is heavy on seafood with steamed crab, sea urchin, abalone and prawns being prominent menu items. Beef and dog are the most common meat items on the menu. Many of the stir-fry dishes use large North Korean mushrooms, aweto or ginseng. In addition, traditional Korean barbecue is available as well as cold noodles and stone pot cuisine.
Diners can also chose from a large selection of North Korean liquor, including "Sea Dog Liquor" and medicinal herbs. Chinese liquor and beer are available for the less adventurous.
The Beijing branches of Hae Dang Hwa are located in Xinyuanli and near Chaoyangmen. While the Chaoyang restaurant's exterior appearance may not be upscale, the dining rooms are meant to impress.
The main dining room features traditional wooden tables and chairs as well as plenty of Korean artwork and decorations, but still manages to look contemporary and clean. In addition, there are 20 private dining rooms of various sizes, where guests can dine at regular, round banquet tables with chairs or at Korean-style tables with floor cushions.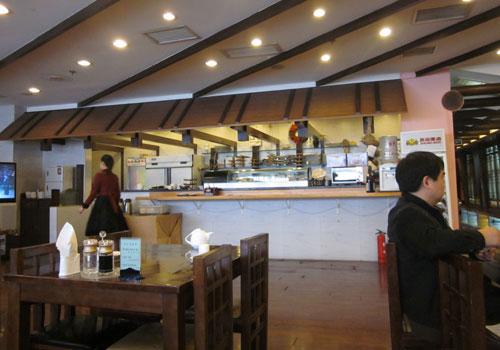 The main dining room of Hae Dang Hwa Restaurant maintains a modern style while
incorporating traditional Korean details. [Photo: CRIENGLISH.com]