There will be lots for kids to do on International Children's Day. Liu Yujie and Wu Wencong report.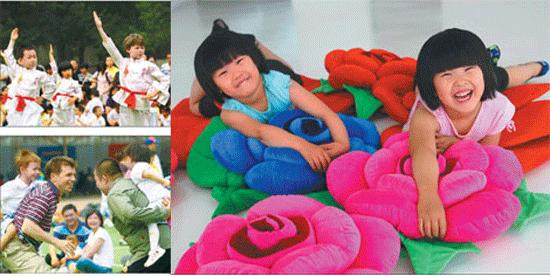 Clockwise from top left: Nikita Alderson, 6, from Russia, practices Chinese kungfu with Chinese children in Sanlitun on Sunday; Twin girls listen to stories told by an early-education teacher at Family Box in Chaoyang district on Sunday; Fathers carry their children during a competition in Sanlitun. Photos by Zou Hong / China Daily
Editor's note: Wednesday is International Children's Day. To help you and your children celebrate, here is a selection of the many activities that will make the city a fun place for youngsters on their special day.
2011 Forest Project and Fairy Tale Children's Art Exhibition
Co-presented by Beijing Art District Construction Committee and TCAT Thread International Children's Art Centre, 798 International Children's Art Week will make for an educational and art-filled Children's Day.
For the subject of the art week, the Forest Project,young artists from all around the world and famous Chinese contemporary artists will be improvising a larger-than-life mural that will depict their interpretation of the forest.
The forest is a fundamental cornerstone of life on Earth. It sustains all of Earth's creatures in one way or another, improving ecological value and housing thousands of Earth's most unique species.
Forests can also be valued for their sheer beauty as they are a virtual ecological cornucopia of artistry. During the activity, children and artists will work in a factory of dreams, where their creativity and compassion will be inspired.
"We hope to arouse ecological awareness in all our participants and audience members, by uniting Earth and art on a day that pays homage to our future - our children," said Yu Weiping, the project's producer.
Meanwhile, a fairy tale-inspired children's art exhibition will be held at 798 Space.
The exhibition, which has attracted works by children in Beijing and the far reaches of the globe, focuses on the psychological development of children and how they choose to express themselves through color, forms and artistic exploration.
It tries to shed light on the vulnerability of children, how their worldviews can be shaped, and how art therapy can develop and nurture their personalities.
"Art is a direct way for children to express their emotional experiences and life histories," said Yu. Using visual tools, they can communicate their perception of the things around them; expressing suppressed feelings and their subconscious.
"Through art therapy we can help children who feel depressed and confused in life - and even children with mental illnesses - to better understand their thoughts and improve their communication and interpretation skills."
When: Opening 4 pm, Jun 1, running from June 1-7
Where: 798 Space, Ceramic Third Road, 798 Art Zone, 4 Jiuxianqiao Road, Chaoyang district
北京市朝阳区798艺术区B区706北一街思莱德画廊