SHANGHAI - Bicycle manufacturers are keeping a close eye on the high-end market in China after industry experts said the sector is the only way for them to enjoy long-term development.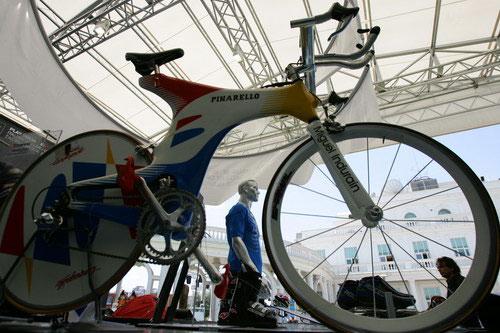 A made-in-Italy bicycle on show at a trade fair in Beijing. Luxury brands of bikes are
becoming popular among Chinese consumers. [Photo/China Daily]
The use of bicycles has significantly declined in urban areas in recent years because of the growth in the size of cities and a faster pace of life. According to figures from the China Bicycle Association (CBA), more than 68 percent of residents in Beijing cycled in the 1980s. It was less than 16 percent in the 1990s.
Old-style bikes are not considered a symbol of wealth by the younger generation as they were in the 1980s. Many locally developed bike brands such as Phoenix and Forever suffered a sharp decline in demand and some companies were at the edge of bankruptcy.
"Bikes are considered as a low-end transportation tool, rather than an exercise and leisure product, in many Chinese people's opinion," said Ma Zhongchao, president of the CBA.
Bicycle manufacturers are fully aware of the situation and are trying to focus on the high-end market.
Libahuang, a privately owned bicycle manufacturing company based in Zhejiang province, has cooperated with US-developed brand Triace to explore the mid-to high-end market in China. Industry insiders said it will help to boost sales in overseas markets. Shenzhen-based XDS is also promoting its high-end leisure bicycles by participating heavily in many bicycle-riding competitions around China to try to cultivate a riding culture.
Ma said Phoenix also has a plan to produce carbon fiber bicycles to reduce their weight. Ma said Chinese companies need to use more innovative materials to increase their attraction.
At a bicycle fair in Shanghai this month, most bicycles on display were leisure models that cost more than 1,000 yuan ($154) each.
"It showed that we have the technology and skill to produce high-end products. What we need to do is to make people believe riding a bicycle is a leisure exercise that is suitable for all householders," said Ma.
Thanks to increased disposable income and people's desire to get or stay fit, the demand for high-end bikes has gradually increased in recent years.
Rbike Networks Ltd, a company trading branded-bikes for world famous automakers such as Hummer, Ferrari and Lamborghini in China, revealed that its sales are expected to increase by some 150 percent in 2011. The company sold some 20,000 automaker-branded bicycles in 2010 in China. The bikes cost more than 2,000 yuan each.
"Bikes are not thought of as a transportation tool by some young people. They symbolize a leisure lifestyle. More and more car owners ride bikes during the weekend to enjoy a low carbon and healthy life," said Zhou Jiannong, general manager of Rbike.
Attracted by the large market potential, international bicycle manufacturers are keen to take a slice of the cake.
BH bikes, one of the most famous bicycle manufacturers in Spain, opened a directly-managed sales company in Taicang, Jiangsu province, in 2010. Its products were introduced in China through local distributors in 2006. However, BH said brand awareness is not high enough.
"Many Chinese have had no idea about our brand and the value behind the brand over the past few years," said Li. "We will pay more attention to promoting our brand in the next few years."
To avoid extensive competition with local companies with better brand awareness and brand loyalty, BH has decided to focus on sports bikes over the next few years.
"We will introduce more types of bikes into the Chinese market when the overall performance meets our expectations," added Li.
Although both domestic and international bicycle manufacturers are feeling positive about the high-end market, some bicycle riders said road conditions in China should be improved to attract more people to the activity.
Editor:Yang Jie |Source: China Daily