A deepening crisis surrounding cash-for-votes scandals in both the FIFA presidential elections and recent World Cup bids has left soccer's world body reeling amid calls for the election to be postponed and for FIFA to be reformed, as incumbent Sepp Blatter prepares to enter a fourth term unopposed.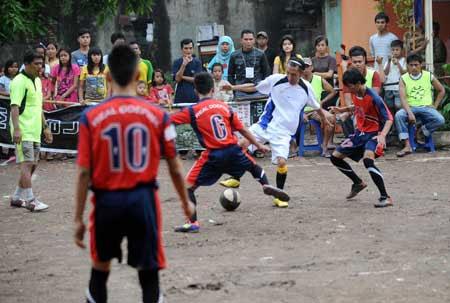 Indonesians watch youths play football during the "Sepak Bola Antar Kampung," or
the village cup, in Jakarta on Tuesday. FIFA has offered the Indonesian Football
Association a second chance to elect a new leadership after a vote was abandoned
amid chaotic scenes earlier this month. (Photo: AFP )
The English Football Association (FA) took the initiative on Tuesday, calling for the immediate postponement of FIFA's presidential election, scheduled for today, and for an independent review to reform the organization.
"First, to postpone the election and give credibility to this process, so any alternative reforming candidate could have the opportunity to stand for president. Secondly, to appoint a genuinely independent external party to make recommendations regarding improved governance and compliance procedures and structures throughout the FIFA decision-making processes for consideration by the full membership," FA Chairman David Bernstein said on Tuesday, asking other national associations to support his calls.
The FA announced earlier this month that it would abstain from the election when there was still a contest between Blatter and Asian Football Confederation (AFC) President Mohamed bin Hamman, who has been suspended pending a probe into alleged bribery.
FIFA Vice President Jack Warner and Bin Hamman were provisionally suspended over bribery allegations Sunday with the latter withdrawing from today's presidential race.
The two were accused of paying $40,000 in bribes to Caribbean delegates to vote for Bin Hamman instead of Blatter in the race.
China's Zhang Jilong, deputy president of the AFC, has taken temporary charge of the Asian body since Monday, according to AFC rules following Bin Hammam's suspension.
The suspensions came weeks after allegations that several other members of FIFA's executive committee were involved in corruption during the voting process for the 2018 and 2022 World Cups. According to a private e-mail that was made public by Warner on Monday, Jerome Valcke, general secretary of FIFA, said Qatar had bought the rights to host the 2022 World Cup.
"For MBH (Bin Hamman), I never understood why he was running," Warner quoted the e-mail from Valcke as saying. "If really he thought he had a chance or just being an extreme way to express how much he does not like anymore JSB (Blatter).
"Or he thought you can buy FIFA as they bought the WC (World Cup)."
On Monday, Valcke confirmed the e-mail was genuine, but said that Warner had only published selected parts of it.
The organizers of Qatar's successful bid for the 2022 World Cup on Monday rejected any allegations of wrongdoing.
Blatter shrugged off suggestions on Monday to suspend the election campaign, and insisted that FIFA is not in crisis despite the "great damage" to its reputation.
Blatter also rejected suggestions that the bid for the 2022 World Cup, awarded to Qatar, should be held again amid the deepening crisis.
"There is no issue for the World Cup in 2022," the 75-year-old Swiss said. "I believe that the decision taken for the World Cup in 2022 was done exactly in the same pattern and in the same way as the 2018 tournament."
However, Blatter has been unable to quell doubts voiced by politicians and companies affected by the scandal.
An Australian senator demanded a refund from FIFA for the $48.8 million the country spent on the World Cup bids and urged Australia not to spend any more money on the event until the corruption investigation has been completed.
Separately, two heavyweight sponsors – Coca-Cola and Adidas, which are longtime partners with FIFA – revealed their concerns over the crisis, calling it "distressing and bad for the sport."
"We have every expectation that FIFA will resolve this situation in an expedient and thorough manner," Coca-Cola spokesman Petro Kacur told Reuters.
A spokesman for Adidas said the negative revelations surrounding FIFA were neither good for football nor for FIFA and its partners.
Brazil's 1970 World Cup winning captain Carlos Alberto Torres called for a general change in the world soccer governing body, saying, "There are so many good people who could take office."
"I think there should be new people in command of the bodies," he told Reuters. "With the same people staying (in power) so long, there is a vicious circle."
Wang Dazhao, a sports commentator with People's Daily, said that Blatter will probably win re-election if the FIFA associations do not vote to delay the election, but his next tenure will be difficult as long as problems related to corruption remained unresolved.
"The current scandal is just speculation and investigations within FIFA. No judicial investigation has been involved so far. Blatter himself has rich experience in dealing with such scandals, so he might not see this as a scandal," Wang told the Global Times.
"It is not a problem of football. People love football so much and opportunities to take advantage of this love are much greater than in other games. And some people are bold enough to make profits out of this and that's why corruption scandals happen in football," Wang said, adding that the lesson that should be learnt through these scandals is to strictly follow procedure.
Related stories
Editor:Yang Jie |Source: Global Times