ROME, June 2 (Xinhua) -- The second decade of the 21st century provides an important development opportunity for China and Russia, and is also an important period for the further development of China-Russia relations, Chinese Vice President Xi Jinping said here on Thursday.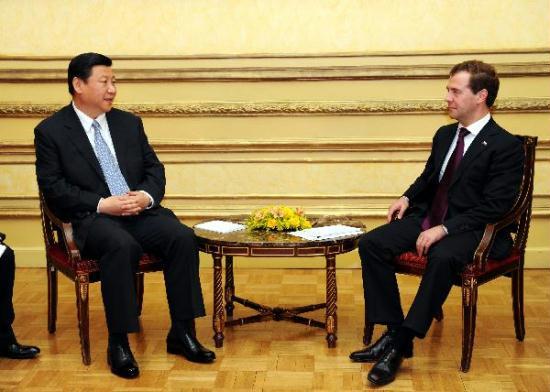 Chinese Vice President Xi Jinping (L) meets with Russian President Dmitry Medvedev in Rome,
Italy, June 2, 2011. (Xinhua/Ma Zhancheng)
Xi made the remarks while meeting with Russian President Dmitry Medvedev. Both leaders are here for the celebrations of the 150th anniversary of unification of Italy, as guests of Italian President Giorgio Napolitano.
Guided by the treaty on China-Russia good-neighborly, friendly and cooperative relations signed 10 years ago, China and Russia have developed high-level political mutual trust and carried out all-round strategic coordination and pragmatic cooperation for the benefits of both sides, said Xi.
"The unprecedented development of the China-Russia partnership of strategic coordination has brought concrete benefits for the two peoples and made important contribution to the peace, security and stability in the world," he added.
He also described China and Russia as "important mutual partners for economic cooperation."
"The development strategies of our two countries can produce opportunities for us to deepen pragmatic cooperation," he said.
Medvedev spoke highly of the development of Russia-China ties over the past decade, adding that the two countries have expanded cooperation in political, economic, energy, scientific and technological areas as well as people-to-people exchanges during the period.
The Russian president also said that Russia and China have carried out close cooperation in the United Nations, the Shanghai Cooperation Organization, the BRICS group and the Group of 20, and have maintained good communication and coordination on major international issues, thus playing an important role in safeguarding regional and global peace and stability.
He said Russia is willing to strengthen high-level contacts and deepen all-round cooperation with China so as to lift bilateral ties to a new high.
Xi, who is on an official visit to Italy, will also visit Cuba, Uruguay and Chile.
Editor:Wang Xiaomei |Source: Xinhua