SYDNEY - A ten tonne polar bear camping out at Sydney's majestic Circular Quay isn't likely to survive for more than a day or two.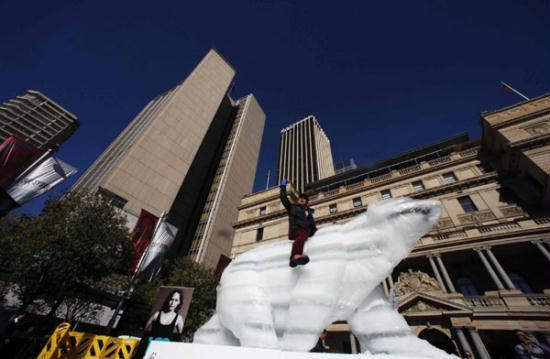 Sculptor Mark Coreth rides his life size ice polar bear in Circular Quay in central Sydney
June 3, 2011. The ice polar bear will gradually melt as people is encouraged to touch it
and feel the melting ice to symbolise the plight of polar bears in the Arctic where melting
ice is threatening their survival.[Photo/Agencies]
The bear, made of solid ice, will slowly melt into a great puddle of water under Sydney's 20 degree (68 F) winter sun, and sculptor Mark Coreth is just fine with that.
In fact, he hopes this slow and painful "death" will remind people of the plight of the real thing.
"When I was (in the Arctic), the Inuit guides were saying look, you can sculpt a polar bear, that's fine, but how on earth are you going to sculpt the real issue we got, and that's the warming arctic?" Coreth said in front of Sydney's Customs House.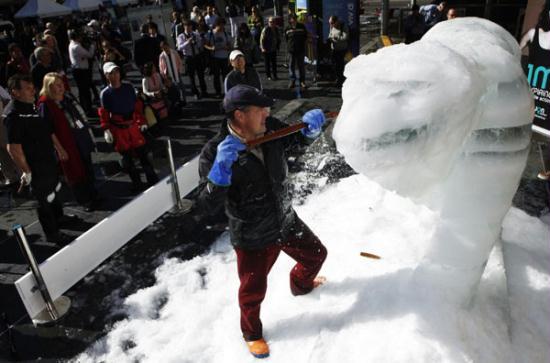 Sculptor Mark Coreth works on the carving of an ice polar bear at Circular Quay in central
Sydney June 3, 2011. [Photo/Agencies]
London-born Coreth has travelled the world with his ice bear sculptures since 2009, but Friday's stop was his first in the southern hemisphere and the furthest from the Arctic, the polar bear's natural habitat.
"Sitting in the sun, it's going to melt that bear, that's the natural warming of the planet, as is happening," he said.
"But when people touch it, when they touch that bear, they melt it, you can feel it melt under your hand, that's a human impact. Big hard touch, big hard melt."
Editor:Wang Xiaomei |Source: China Daily