BEIJING, June 13 (Xinhuanet) -- The rough and steep mountain roads in Mentougou district, Beijing, have not hindered Li Yan's visits to families with newborn babies over the past years. On the contrary, she has found it to be a great pleasure.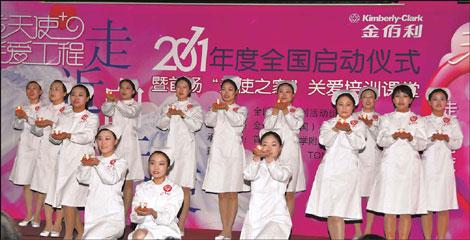 The launching ceremony of the "Touch of White Angel" campaign, which was jointly
initiated by the All-China Women's Federation and Kimberly-Clark China. (Photo
source: China Daily)
Li is a health worker at the community health service center in Yanchi township, Mentougou district, and has lived in the area for 41 years. Visiting the families of newborn babies twice after they leave hospital has been her main job since six years ago. Her task is to teach the principles of babycare and provide guidance on ensuring the infant remains healthy.
"I am gratified and happy when I experience feeling the sheer trust of their mothers and see the sweet smiles of the babies," said Li, adding that she has become so accustomed to the mountain roads that she can't remember how many times she has walked up and down them.
Thanks to the "Touch of White Angel" campaign jointly launched by the All-China Women's Federation (ACWF) and Kimberly-Clark China, many more health visitors like Li could have access to professional training in terms of both medical knowledge and communication skills between patients and healthcare professionals.
ACWF is a member of the National Working Committee on Women and Chinese under the State Council, and Kimberly-Clark is a US-based personal care products giant that makes personal care brands including Kleenex tissues, Huggies, Pull-Ups, Kotex, Poise and Depend.
The "Touch of White Angel" campaign was launched on March 2. It was intended to support female healthcare professionals both in cities and rural areas in their vocational development and help them relieve the pressure experienced at work.
According to research by ACWF, healthcare professionals from cities and rural areas suffer high risks and intense pressure.
The campaign is not simply about donating hygiene products or giving professional training. For example, under its aegis there will be publicity campaigns in cities such as Shanghai, Nanjing and Shijiazhuang. The organizing committee will also declare the winner of the Most Admired White Angel Award to encourage medical workers to perform better.
Angels Home - the training and communications center of the campaign - will focus on places where there is a shortage of medical resources.
This year, the organizing committee plans to build seven Angels Homes. They will invite medical experts and professors across the country to give lectures to healthcare professionals and impart advanced medical knowledge to them.
Female participants will be taught how to balance home life and work.
This year the campaign will target more than 10 major cities, covering more than 300,000 medical professionals. It is expected 5 million female healthcare professionals will have benefited from the program by the end of 2015.
Kimberly-Clark China said that by addressing the issues of female healthcare professionals, it could increase its reputation for caring for women. Moreover, the concern for women healthcare professionals will bring better quality services and benefits to new mothers.
"As a global health and hygiene leader, Kimberly-Clark has always placed the concept of 'care' as a core value. While providing women and children with hygiene products guaranteed to the highest standards, we are also actively committed to being socially responsible through public welfare," said Kimberly-Clark China.
It added that the company will consistently provide long-term support for this campaign and bring Chinese women and mothers in need the essentials for a better life.
Editor:Yang Jie |Source: China Daily