ASTANA, June 13 (Xinhua) -- China and Kazakhstan upgraded their relations on Monday, vowing to develop an all-round strategic partnership and strengthen their cooperation in economy, trade, environment protection and other fields.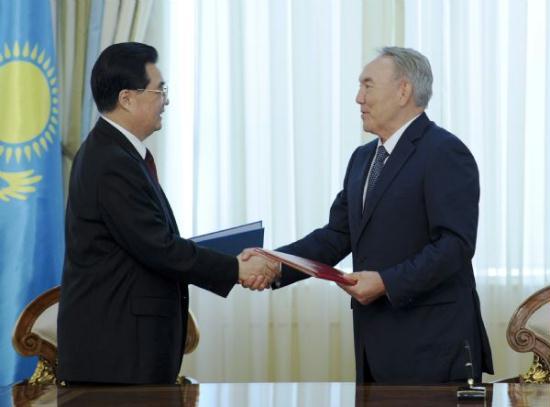 Chinese President Hu Jintao (L) shakes hands with his Kazakh counterpart Nursultan Nazarbayev in the signing ceremony of the Joint Declaration of China and Kazakhstan on Development of All-round Strategic Partnership in Astana, Kazakhstan, June 13, 2011. (Xinhua/Zhang Duo)
A joint statement was issued on the upgrading of Sino-Kazakh ties after talks between Chinese President Hu Jintao and his Kazakh counterpart, Nursultan Nazarbayev, in the Kazakh capital of Astana.
As the relations between China and Kazakhstan are entering a new phase, the two countries decided to develop an all-round strategic partnership, the statement said.
ALL-ROUND STRATEGIC PARTNERSHIP
The statement said the two countries will strive to deepen pragmatic and mutually beneficial cooperation and strengthen coordination in a bid to realize common development and prosperity on the basis of adhering to the China-Kazakhstan Good-Neighborly Treaty of Friendship and Cooperation as well as other existing bilateral documents.
The two sides said that developing an all-round strategic partnership is the priority of the foreign policies of both countries no matter how the international and regional situations change.
Political mutual trust is the foundation of China-Kazakhstan relations, said the statement.
The two sides also pledged to maintain frequent exchange of visits between leaders of the two countries and strengthen comprehensive communication and cooperation between governments, legislatures, political parties, social groups, enterprises and financial institutes of the two sides so as to continuously promote mutual understanding and trust, the statement said.
The two countries reiterated that they will support each other's efforts in safeguarding their national sovereignty, security and territorial integrity.
Kazakhstan reiterated its firm adherence to the one-China policy, saying it supports a peaceful development of cross-Strait relations and China's peaceful reunification.
In the statement, China expressed support for the efforts made by Kazakhstan and its government leaders in safeguarding national sovereignty and territorial integrity.
It said China also supports Kazakhstan in choosing its own way of development as well as in adopting necessary measures and making efforts to ensure its social development and economic growth.
China also supports Kazakhstan's efforts in safeguarding regional and world peace and stability, said the statement.