If having a foreigner as your tour guide in Xi'an doesn't look odd enough, heads surely turn when passersby hear him speak fluent Mandarin or even the local dialect.
It turns out that my tour guide, Udo Müller, a German who cultivated an interest in Chinese culture at age 14, is more than qualified.
While nearly all tourists flock to Xi'an's Muslim Street tucked beside the city's landmark Drum Tower, Müller directed me into the back alley where locals come for authentic Muslim flavor.
Coming from Germany, the European country that is home to iconic philosophers, Müller has his own way of thinking when it comes to discovering a new place.
"Instead of finding the differences, you'd better take notice of the things here that are similar to your background," the 45-year-old expert on Chinese culture said.
"It's like two people can be friends only if they have the same interests."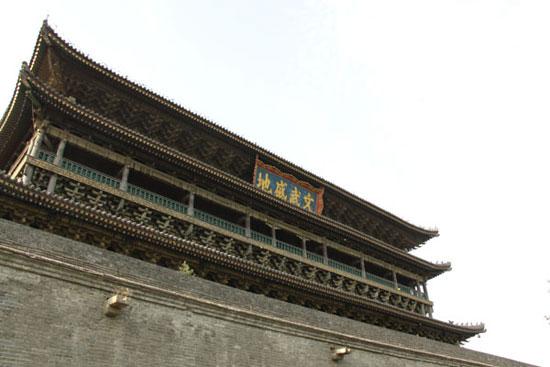 The Muslim Street is tucked behind Xi'an's historical landmark-Drum Tower. [Photo:CRIENGLISH.com]
Müller said there were many similarities in terms of food between Berlin, his hometown, and Xi'an, the ancient capital of 13 Chinese dynasties.
First, people from both the cities eat a lot of meat. Along Xi'an's Muslim Street are numerous shops selling lamb, beef and liver. Most of the restaurants are family businesses.
As the name suggests, Muslim Street is where Muslims have lived since the Han Dynasty more than 1,000 years ago. The area used to be a trade hub along the ancient Silk Road. Nowadays it still serves as a place where Muslims sell food and snacks.
Müller said although some of the restaurants are small and shabby, their food is tasty and unique.
Second, the staple foods in both Berlin and most of Germany as well as Xi'an are made from flour. Although Müller said he missed the wonderful taste of German noodles, he couldn't help indulging in the countless varieties of noodles in Xi'an.
Third, both the citizens of Berlin and Xi'an share a fondness for beer. Germany is known for its beer brewing techniques. Xi'an's top beer brand -- Hans Beer -- is a product of German brewing skills and water from Xi'an's nearby mountains.
Because there are too many food choices along Muslim Street, Müller, who is both knowledgeable and humorous, joked that the best way to dine here was to "get here in the morning when you are very hungry and eat until the evening. And then you have to find some big guys to roll you back home."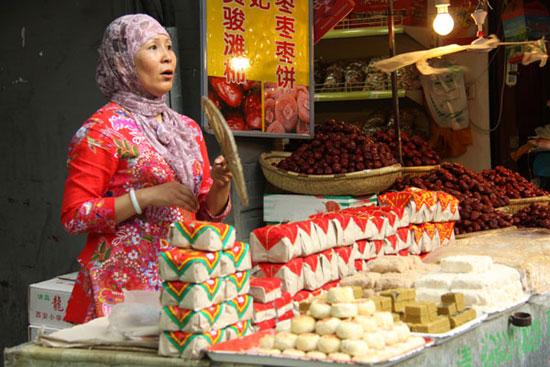 A Muslim woman sells snacks behind her stall along the Muslim Street. [Photo:CRIENGLISH.com]
Muslim Street is also home to a number of mosques. Because they stand out among the low-rise buildings where vendors operate stores and restaurants, the mosques usually draw crowds of tourists.
Müller pointed out another exclusive attraction along Muslim Street -- the Gao family residence. With grayish time-battered gates and walls, the residence is easily bypassed by most tourists "with a blink of an eye," he said.
For an entrance fee of 15 yuan per person, visitors can peer into 56 of the residence's 86 rooms. For an extra five yuan, they can sit in the guestroom decorated with antique furniture and enjoy a pot of tea.
Drinking some tea might be a perfect end to a visit to Muslim Street, but Müller insists that tourists not miss seeing the place at night. With the lights turned on and tourists shuttling between restaurants and shops, Muslim Street in the evening has the magic power to transport people back to the times when Xi'an was the pulsing heart of China.
"Foreign tourists who visit Muslim Street find the feeling of oriental mixture, Chinese culture and Arabian culture coming together," said Müller said, who considers it the beginning of a journey to discover Xi'an, although he has lived here for more than seven years. "It's a nice feeling."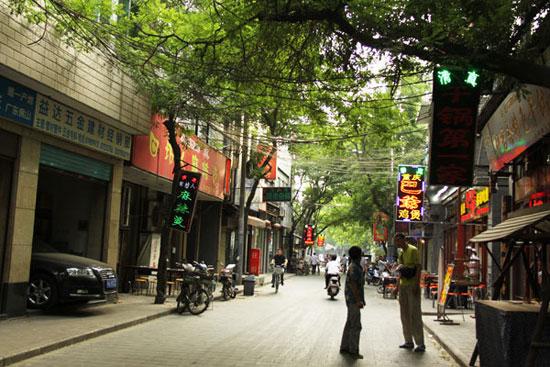 Shop signs are lighted up when night falls to attract tourists. [Photo:CRIENGLISH.com]