MANCHESTER, the United States, June 13 (Xinhua) -- Republican candidates Monday night attacked President Barack Obama in a major televised debate, and Minnesota Congresswoman Michele Bachmann grabbed the spotlight by announcing her candidacy on stage.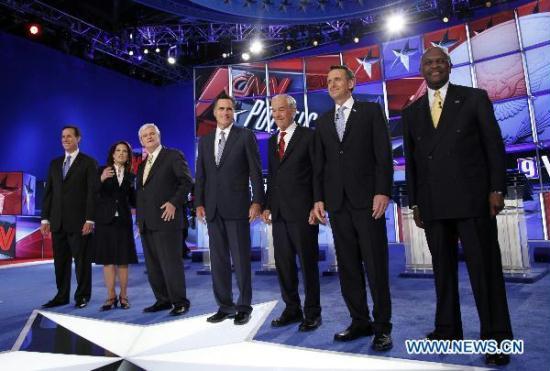 Republican candidates (L to R) Rick Santorum, former two-term senator from Pennsylvania; Congresswoman Michele Bachmann; former House Speaker Newt Gingrich; former Massachusetts Governor Mitt Romney; Texas congressman Ron Paul; former Minnesota Governor Tim Pawlenty; entrepreneur Herman Cain attend their debate June 13, 2011 at Saint Anselm College in Manchester, New Hampshire. (Xinhua/Wang Fengfeng)
"I filed today my paperwork to seek the office of the presidency of the United States and I'll very soon be making my formal announcement," she said.
In an email message to journalists immediately after the announcement, her campaign said the "country needs a leader who understands the hardships that people across America have been facing over the past few years, and who will do what it takes to renew the American dream."
The campaign filed official candidacy paperwork Monday afternoon, and is gearing up for a campaign announcement tour in the coming weeks in Iowa.
With the filing, Bachmann suspended her Congressional campaign and is no longer actively seeking reelection in Minnesota's 6th Congressional District.
After Bachmann's announcement, candidates engaged in debates at Saint Anselm College on the economy, federal debt and the size of the government, directing most of their criticism at Obama.
Mitt Romney, the former Massachusetts governor, said "this president has failed," as the American people "counted on him to create jobs and get the economy growing."
Romney said Obama didn't create the recession, but he "made it worse and longer."
Newt Gingrich, the former House speaker, followed by labeling the Obama administration as "an anti-jobs, anti-business, anti-American energy destructive force."