BERLIN, June 18 -- The DFB (German Soccer Association) general secretary Wolfgang Niersbach expressed his incomprehension about Michael Ballack's utterances after his cancellation from the German squad, on Saturday in an official statement.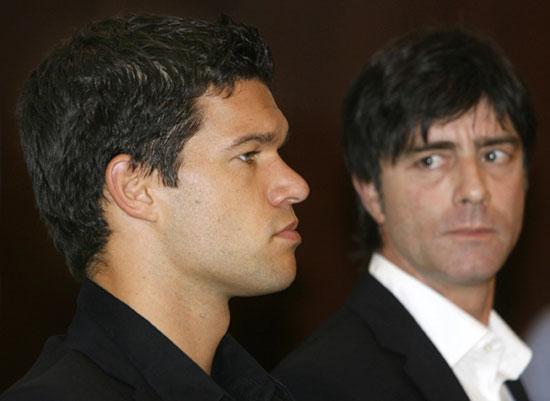 Germany's head coach Joachim Loew (R) looks at soccer team captain Michael Ballack during a news conference in hotel Crowne Plaza in Bratislava, Slovakia, October 10, 2006. (Xinhua/Reuters File Photo)
Former German international midfielder and long term captain Michael Ballack reacted Friday with a sharp statement about the manner he was cancelled from the squad, as he acussed head coach Joachim Loew of hypocrisy.
"First of all, I regret that Michael has rejected the official farewell game from the national team against Brazil. It is a real pity how he responded. In my view all conversations were absolutely correct and fair. Loew told him that he no longer plans with him. We then agreed his wish that he would announce his retirement from the national team", Wolfgang Niersbach said.
The DFB waited for Ballacks announcement but he was not available. "Then we decided to publish on Thursday the recent statement because the timing was actually overripe. It was important to take a clear position and to end public speculation" , DFB General secretary Niersbach added.
Related stories
Editor:Sun Luying |Source: Xinhua