Yonhap news agency reported South Korea's military said Sunday it will not reprimand two Marines who fired rifles last week at a civilian jetliner after mistaking it for a North Korean military aircraft.
The two Marines guarding an island near the tense Yellow Sea border with the North fired their K-2 rifles at the Asiana Airlines plane flying in sea fog in a pre-dawn incident on Friday. The plane with 119 people on board was undamaged and no one was hurt, as the plane was flying out of range of the fire.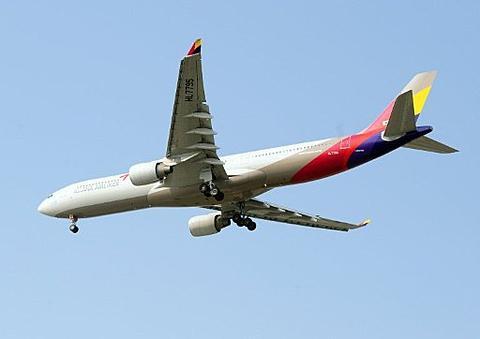 An Asiana Airlines lands at Incheon International Airport in Incheon, west of
Seoul on June 18, 2011. /AFP
"Fog" caused troops to fire on passenger plane
South Korea's military says it will not punish soldiers who fired at a passenger jet flying from China, mistaking the aircraft for an enemy plane amid sea fog and high tensions with North Korea.
"Early-morning sea fog disrupted their vision ... they did what they had been told to do based on military manuals," a Marine Corps spokesman said on Sunday.
"The action was partly caused by high tension with the North ... we for now have no plan to punish them given there was no damage to the plane," he said.
South Korean troops mistakenly attack passenger jet
Troops in South Korea attacked a passenger jet Saturday after mistaking it for a North Korean aircraft. The Asiana Airlines plane was out of range and escaped undamaged; the 119 on board were unharmed.
Soldiers fired 99 rounds, including two blanks, from their K2 rifles at the Airbus A321 as it approached Incheon International Airport on a flight from China. That airport serves Seoul and is 25 miles (40.2 kilometres) from the border between the two Korean states.
The plane's route is disputed. One aviation controller said that the plane was "flying normally" and "did not deviate from its normal route," a claim with which Asiana agrees. However, Yonhap reports that the South Korean marines who attacked the aircraft say it was off-course. A Marine Corps official said the shooting lasted ten minutes as the plane flew over Jumun island. The marines fired from nearby Gyodong.
Editor:Du Xiaodan |Source: CNTV.CN