WUHAN - The heaviest rainfall in 13 years hit Wuhan, capital of Hubei province, on Saturday, bringing city traffic to a standstill and prompting the mayor to apologize for the lack of warning signs about deep water on the streets.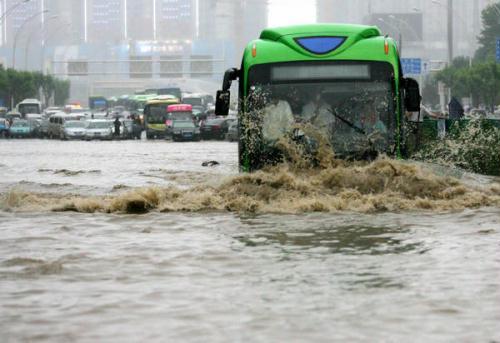 A bus is stranded in floodwaters under the viaduct bridge on Xudong Road in
Wuhan, Central China's Hubei province, on Saturday.
[Zhou Guoqiang / for China Daily]
Tang Liangzhi, the mayor of Wuhan, walked through water as deep as 30 cm to a residential complex in Jiang'an district on Saturday, where many residents complained about poor warning signs on the streets, which led to some people suffering broken legs.
Tang apologized to them, saying: "Sorry for that. What most worried me was some residents might be hurt or killed because of accidents in deep water after the rain." Qu Lingyun, a local reporter, told China Daily.
Tang also ordered water authorities to put warning signs in dangerous places within half an hour.
On Saturday, Wuhan received its heaviest rainfall since 1998, with the largest precipitation reaching 203 mm in Caidian district by 5 pm.
The average water accumulated on the roads in the city was 50 cm deep. The downtown Shaihu culvert was filled with water 4 meters deep before noon.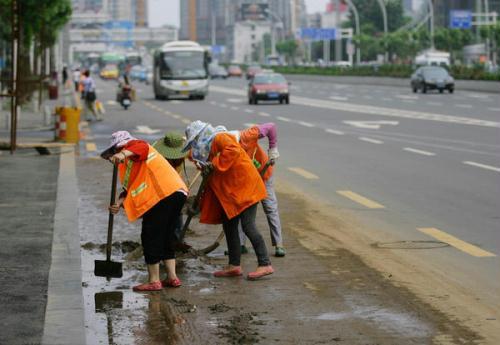 Floodwaters had receded at the viaduct bridge by Sunday afternoon.
[Zhou Guoqiang / for China Daily]
"Cars could not drive through the culvert any more. Residents had to walk across the railway track above it to get home," Zhang Ying, another local reporter, told China Daily.
"There was water everywhere," resident Deng Jiangying said. "Even on a busy shopping street, I could not find a taxi for 50 minutes that night."
The torrential rain also flooded many campuses in Wuhan.
Li Na, from Zhongnan University of Economics and Law, said water outside the dormitory building kept her classmates inside and even forced them to delay their departure for home. "When I went to the canteen, the water reached my knees," Li said.
The campus of Hubei University was covered in water deeper than 30 cm.
"It's difficult for thousands of students to leave the campus," said a staff member of the university surnamed Huang.
The deep water on roads had all receded by Sunday, said Gao Shan, an official from Wuhan's water authority. No deaths or major accidents caused by the flood in the city were reported.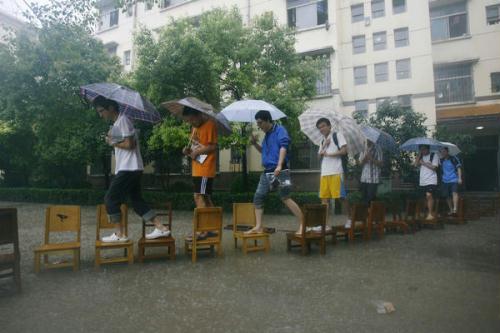 People cross a bridge made of chairs to avoid water on Saturday. Heavy rain hit
Wuhan early on Saturday morning, flooding most streets in the city, paralyzing
traffic and affecting residents' lives. [Chen Zhuo / for China Daily]
More than 3,000 traffic police officers guided traffic on Saturday. All the staff of water authorities worked over the weekend to monitor the floodwaters.
Gao said the floodwaters could not be drained away and had accumulated on the surface, paralyzing traffic in Wuhan. He said this was partly caused by construction projects that had destroyed parts of drainage pipelines. The water authorities would take tougher measures to prevent these violations in the future.
Heavy rain and lingering floods had plagued Hubei province for more than two weeks.
A new rain-triggered landslide left two people dead and two missing, a statement on the website of the provincial flood control and drought relief department said on Saturday.
The rains mainly affected the southern part of the province. Drought continues in 16 cities and counties in the north, the statement said. However, the rains had reduced the amount of drought-hit farmland by 733,333 hectares compared to 10 days earlier.
Related stories
Editor:Du Xiaodan |Source: Chinadaily