Models of the bullet trains are selling for 20 yuan ($3.1) to as much as 2,000 yuan for the more intricately detailed.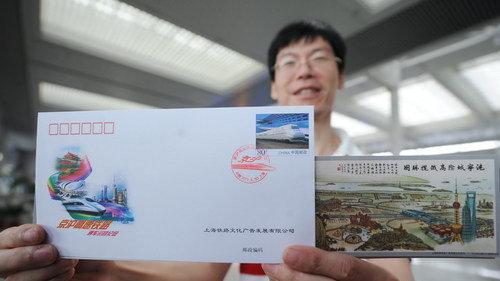 The first day cover commemorating the start of the Beijing-Shanghai High-speed Railway is a popular souvenir. [Photo/China Daily]
One retailer surnamed Chen said he had already sold more than 200 miniatures in the past week, many of them priced over the 1,000 yuan range. Chen said several buyers ordered more than one set as these made good gifts.
"The high-end technology and manufacturing technique applied to the original CHR380BL engines for the Beijing-Shanghai High-speed Railway mean the models have to be really well done to mimic details of the original trains," he said.
Stamp collectors, too, are getting in on the act and lining up for the commemorative first day covers and special postal chops.
"We have received more than 500 reservations for the first day covers so we need to send more people to the post offices to queue for these items," said Gu Xiang, an online retailer.
Tickets are also selling like hot cakes. But these are old train tickets, especially those made from thick cardboard, widely used before early 1990s. They were all priced at 50 yuan.
"Many passengers threw the old tickets away after use, so it is not easy to find such things nowadays," said Liu Shumin, a collector of such tickets.
"As the Beijing-Shanghai high-speed trains start to run and we have new tickets printed on the magnetized cards with passengers information on them, the old tickets will just become a memory."
All five pairs of trains with sleeping cars that run between Beijing and Shanghai will be canceled after the start of the high-speed services. One of the two night trains will also be cancelled.
"Old tickets of the night trains are also much sought-after, because they will be getting rare," Liu noted.
Editor:Wang Xiaomei |Source: China Daily