Poland will use its position as acting president of the European Union Council to build a more prosperous, secure and open Europe, the Polish ambassador to China said Friday.
Ambassador Tadeusz Chomicki said Poland's main task is to lead the EU on a path to faster economic growth and an enhanced political community. The central European republic will preside over the EU Council until the end of the year.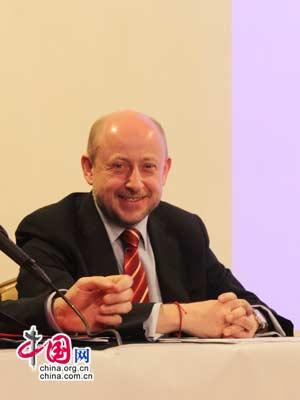 Ambassador Tadeusz Chomicki attendsa press
conference on July 1, 2011.
To achieve these targets, the Polish EU presidency will concentrate on three basic priorities: growth, security and openness, Chomicki said.
"The presidency will work to foster economic growth through further development of the internal market [including the electronic market] and using the EU's budget for building a competitive Europe," Chomicki said.
Chomicki views cooperation between the EU and China as another engine to boost the region's economy. Sino-EU trade has increased dramatically in recent years. China is now the EU's second largest trading partner behind the U.S. and the EU's biggest source of imports by far. The EU is also China's biggest trading partner.
A "secure Europe" requires improving both its macroeconomic security and its external energy policy. Ambassador Chomicki said the presidency will support actions and proposals serving both these ends.
"Poland takes the view that that it is essential to work out solutions strengthening such policies," Chomicki said. "The Polish government is confident that the position of the EU in relation to major producers, consumers and transit states of energy resources can be made considerably stronger if actions are undertaken."
Speaking on energy cooperation, Chomicki told China.org.cn that the EU and China could work closer on energy development in areas such as energy efficiency, wind power, and emissions reduction.
Europe benefiting from openness requires it to strengthen the EU's position on the international stage.
"Taking into consideration the recent events in Tunisia, Egypt, Libya and other states of the Southern Neighborhood, the Polish presidency will endeavor to enhance cooperation based on partnership, concentrating on supporting democratic transformation and the creation of modern state structures," Chomicki said.
Editor:Zhang Ning |Source: China.org.cn