LOS ANGELES, July 3 (Xinhua) -- The Independence Day weekend turned out to be a high time of the transformers when the latest "Transformers: Dark Of The Moon" debuted as the biggest winner across North American movie theaters, according to projected statistics provided by the box office authority.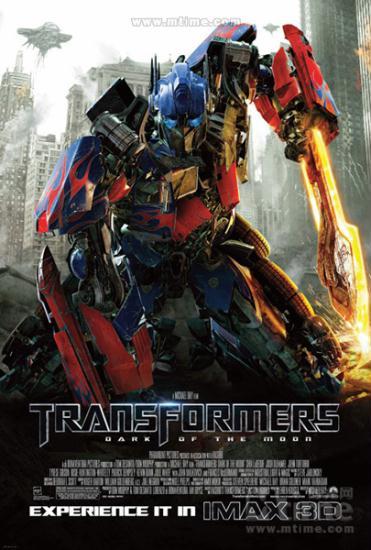 A poster of "Transformers 3".
The third sequel on the "Transformer" franchise, the Paramount picture is on track to take in 97.4 million U.S. dollars during the weekend, shattering the previous Fourth of July long weekend record of 88.2 million dollars which was set by "Spider-Man 2" seven years ago.
The sci-fi/comedy/action film opened Tuesday with sneaks in select 3D and IMAX theatres nationwide, followed by a full release into 4,013 locations in the United States and Canada in order to receive an early response to footage. The Michael Bay film, produced by Steven Spielberg, features Shia LaBeouf, Josh Duhamel, Tyrese Gibson and John Turturro who reprised their starring roles from previous installments.
The Hasbro toyline-based superhero film get a mixed feedback from movie critics, who agreed that the film is characterized by the below-average acting and thin, indifferent script, while the visual effects and 3-D action sequences were superb.
However, audience gave the flick a thumbs up, with CinemaScore giving it A. The studio is upbeat that the film is on track to break four-day record held by "Spider-Man 2" ( 115.8 million dollars) and five-day record held by "Twilight Saga: Eclipse" (157. 6 million dollars).
"Cars 2," a Disney animated film, was number two during the weekend box office derby, which crossed the 100 million-dollar threshold with estimated 25.1 million dollars in movie ticket receipts on its second weekend in screening.
"Bad Teacher," a raunchy Columbia Pictures comedy starring Cameron Diaz, Justin Timberlake and Jason Segel, was third this weekend, garnering 14.1 million dollars in its second week of exhibition.
The fourth and fifth place of the box office chart were taken by two new movies.
Tom Hanks' "Larry Crowne" is projected to gross 13 million dollars from 2,973 venues as number four. "Monte Carlo," a 20th Century Fox counterprogramming comedy targeting teenaged girls, opened in fifth with a 7.6 million-dollar gate.
Related stories
Editor:Li Wanran |Source: Xinhua