By Fu Jing (China Daily)
RABAT, Morocco - Like millions of his fellow Moroccans, Ibrahim Alami, 25, felt very proud that he contributed to last Friday's landslide vote in favor of a new constitution.
He said it would bring greater freedom and rights, including the election of a prime minister.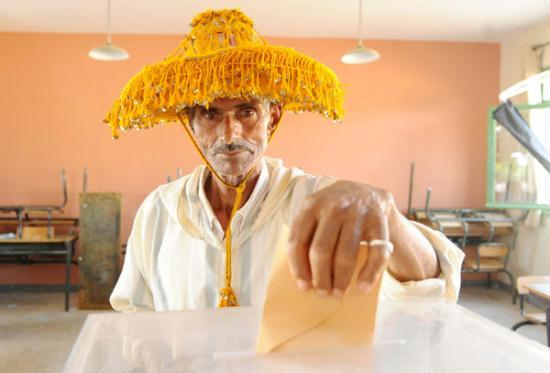 A man from Morocco's Berber ethnic group casts his vote on Friday at a polling station in Khemisset, 80 km east of Rabat. [Photo/Agencies]
As one of the workers at a polling center, Alami got up very early on what he called the "big decision day" - July 1- and excitedly headed to a primary school in the capital's downtown to cast his ballot before other voters arrived at 8 am.
"I voted 'yes', the proudest decision I have ever made," said Alami, who works for a telecommunications company.
"People will be motivated by more freedom and rights, and our country will have a better future," he added.
King Mohammed VI and his brother Prince Moulay Rachid also cast their ballots on Friday morning.
Braving the humid, searing heat, Moroccans went to the polls between 8 am and 7 pm at around 4,000 polling stations.
More than 73 per cent of Morocco's registered voters went to the polls, with 98.5 percent of voters supporting the new constitution, said Interior Minister Taieb Cherqaoui.
Results have yet to come from overseas polling centers. There are 5 million Moroccans overseas, with one-fifth living in France.
The constitutional reforms were proposed by the king in response to recent protests.
According to the BBC, the reforms include:
The king will select a prime minister from the party that wins the most seats in parliament. At present, the king can make anyone prime minister.
A reference to the king as "sacred" in the constitution will be removed, though he will remain "inviolable".
The prime minister will be the head of government, not the king, and will gain the power to dissolve the lower house of parliament.
The prime minister will preside over the Government Council, which will prepare policy before presenting it to the cabinet.
Parliament will have more oversight of civil rights, electoral and nationality issues.
Women will be guaranteed "civic and social" equality with men. Previously, only "political" equality was guaranteed.
The Berber language will become an official state language along with Arabic.
Minister of Social Development, Family and Solidarity Nouzha Skalli told China Daily that her country was making a "historic change" in a peaceful way.
"We don't see killing in my country and our democratic progress is an example for other African countries," said Skalli.
She was also pleased that women are entitled to equal social and civil rights as men in the new constitution.
Yassir Zenagui, minister of tourism, said Morocco is a "country of hope" and its jobless rate is much lower than that of the United States and the United Kingdom. In terms of its credit rating, it is doing much better than Spain and even France.
"Given our special geopolitical position, we are confident of achieving prosperity," said Zenagui.
Inspired by popular uprisings in Tunisia and Egypt, tens of thousands of Moroccans took to the streets of Casablanca, Rabat and other cities on Feb 20 calling for political and social reform.
As the protests continued, the king addressed the nation on March 9 and announced "comprehensive constitutional reform", which would provide "expanded individual and collective liberties and the reinforcement of human rights". He then set up a commission to advise on constitutional changes.
On June 9, the commission announced that it would recommend a shift of powers from the king to the prime minister, the creation of an independent judiciary and the recognition of Berber as an official language, alongside Arabic.
The king later said he would curb his powers and work to establish a constitutional monarchy with an elected parliament and hold a referendum on July 1 on these proposals.
Friday's referendum has gained much attention from the international community.
"We welcome the positive outcome of the referendum on the new constitution in Morocco and commend the peaceful and democratic spirit surrounding the vote," said a European Union statement.
"Now we encourage the swift and effective implementation of this reform agenda."
French Foreign Minister Alain Juppe said the Moroccan people had made a "clear and historic decision".
US State Department spokesman Mark Toner called the referendum "an important step in Morocco's ongoing democratic development".
But pro-reform protesters, as well as human rights groups, claim that the changes do not go far enough. And analysts said the result was a step toward democracy for Morocco, but far from the final one.
"A constitution does not change a system, a constitution creates the framework in which a system can change," said Mohamed Tozy, a political science professor at Casablanca's Hassan II University.
"Is the constitution a good framework for Morocco to change, and to change radically? Yes. Will the constitution change Morocco? No. It will depend on the people who will apply it," he said.
The reform would "consolidate the pillars of a constitutional monarchy," he said.
AFP contributed to this story.
Related stories
Editor:Wang Chuhan |Source: China Daily