By Shao Wei (China Daily)
HEBUKESAIER, Xinjiang - Maulem and his wife happily dressed up on Friday as they moved into their new apartment in downtown Hebukesaier, in the Xinjiang Uygur autonomous region.
The Mongolian couple never imagined they'd be able to live in a town.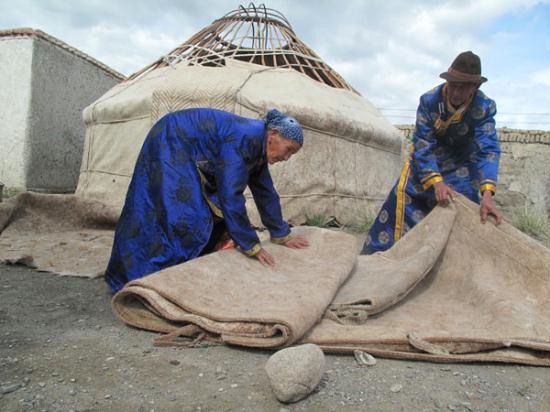 Maulem and his wife pack their blankets as they prepare to move to their new house. [China Daily]
"I've spent most of my life on pastures and on the move, following my cattle, from summer to winter. I am 70 years old this year and I feel so happy that I can settle down in the town to have another kind of life," Maulem told China Daily.
As he talked, he dropped pine needles into a burning tray at the gate of his small, old, gray yurt.
"It is a Mongolian custom that we nomadic people burn pine needles to express our gratitude to god before we move into a new place," he said, with a big smile.
His new apartment, provided as part of a herdsmen relocation and settlement program, is one of 1,200 apartments, which the Hebukesaier Mongol autonomous county government built at a cost of 130 million yuan ($20 million).
The authority gives a subsidy of 50,000 yuan to each household that moves into the new apartments in the town, as well as free interior decoration.
"Depending on the floor space, a household need only pay 40,000 to 60,000 yuan for a two-bedroom apartment," said Xue Junqiang, Party chief of the county.
"The prime aim of the program is to relocate poor and unstable nomadic populations from mountainous areas and improve their living conditions," he said.
Maulem's old home, located in the mountains more than 30 km from the county seat, has "no tap water, no heating system and no constant electricity power supply". His new apartment in the town provides much better living conditions.
His four grandchildren also moved in with him and his wife to enjoy a better education in town.
Sarbud, Maulem's 13-year-old granddaughter, said: "I and the other three grandchildren will live with my grandparents in the new apartment, because in the town it's easy for us to go to school and for my grandma to see a doctor."
She and her siblings used to walk at least 40 minutes along a dirt road every day to the nearest school. Now their school is just five minutes' walk from their apartment.
According to Xue, there are about 4,000 herding households in the county. Due to increased population since the early 1980s, the number of cattle has also increased and the pastures have deteriorated.
"The grasslands are limited," said Maulem. "Now three herding households have to share a grassland which used to belong to one household."
The herders' annual income is only about 4,000 yuan, and they live in poor conditions, said Xue.
To improve herders' living conditions and protect the deteriorating pastures, the county launched a herdsmen's relocation and settlement program, and Xue vowed to offer subsidized apartments in the town for each of the 4,000 herding households before 2013.
Maulem said he did not miss his old house, where he used to herd his cattle. "My two sons still live in my old house and help me herd," he said. "Whenever I miss my pasture, I can go back and take a holiday."
Editor:Wang Chuhan |Source: China Daily