HAVANA - Former Cuban leader Fidel Castro predicted on Sunday that Venezuelan President Hugo Chavez would win his battle against cancer, for which he is being treated in a Cuban hospital.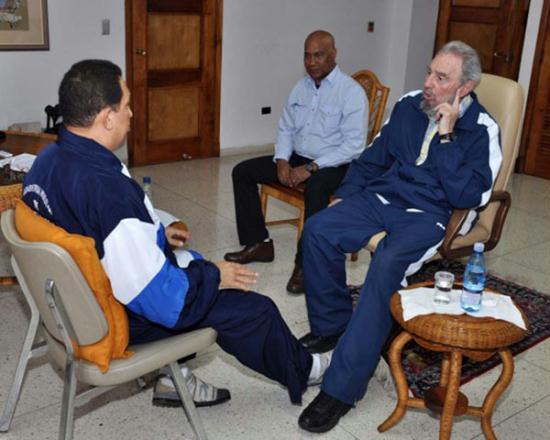 A handout photo shows former Cuban leader Fidel Castro (R) speaking as Venezuela's President Hugo Chavez, (L) listens in Havana July 3, 2011. [Photo/Agencies]
Castro, in one of his written "reflections" posted on a Cuban government website, said Chavez, 56, had had "impressive" results from treatment for the cancer that was diagnosed after Cuban doctors removed what was called a "pelvic abscess" from the Venezuelan leader three weeks ago.
After the cancer was discovered, a second round of "more radical" surgery and subsequent treatment was required, Castro said, but Chavez is doing much better.
"The patient has fought a decisive battle that will lead him and Venezuela to a great victory," Castro wrote.
"Now the external and internal enemies of Hugo Chavez are at the mercy of his words and his initiatives. There will be, without doubt, surprises for them," he warned.
Chavez admitted last week that he had cancer, but did not say what type of cancer it was or how long he would be in Cuba receiving treatment.
His lengthy stay in a Cuban hospital has touched off a political row in Venezuela over whether he can govern the country for so long from afar. It also raised questions about his prospects for reelection in 2012 presidential elections.
Castro, 84, is no stranger to illness having been struck by intestinal illness in July 2006 that forced him to turn over power to younger brother Raul Castro.
Chavez has said Fidel Castro is his political mentor, and they have a close personal relationship.
Cuban and Venezuelan press have run photos and videos of Fidel Castro with Chavez, including new ones accompanying his column that showed the two men sitting in what appeared to be a work session in a makeshift office, most likely in the hospital where Chavez is being treated in Havana.
Castro praised Chavez for his socialist achievements since taking power 12 years ago and said the Venezuelan leader had worked so hard that health problems were inevitable.
"It can be affirmed that for each extra hour that Chavez dedicates to his work, a president of the United States rests two," Castro said.
Related stories
Editor:Wang Xiaomei |Source: China Daily