By Xiao Han (China Daily)
BEIJING - Skoda, the Czech unit of Volkswagen Group, says it will produce a new compact car in China in 2013 to expand its local portfolio.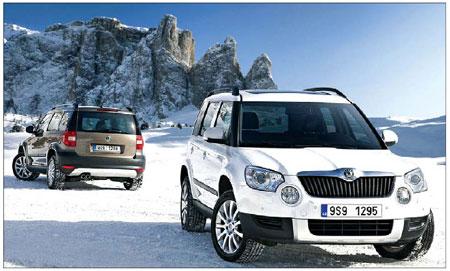 Skoda plans to begin local production of the Yeti in 2013.

The move came after the deal inked between Skoda and Shanghai Automotive Industry Corp (SAIC) at the end of last year to build a compact SUV - the Yeti - in early 2013.
The new compact will be the fifth Skoda model locally produced at the joint venture between Volkswagen and SAIC. The carmaker said that it will be built at the joint venture's future plant in Yizheng, Jiangsu province.
Reports say the new sedan will be priced closed to Fabia but have more interior space.
The company now makes the subcompact Fabia, compact Octavia and mid-sized Superb in China.
On July 1, Gerrit Marx became the new president of Skoda's China operations. Before taking the post, Marx served as president and CEO of Daimler's truck division in China.
With Marx's rich experience in the Chinese market, analysts see the personnel change as an indication Skoda intends to deepen localization in the country for faster growth.
The move follows the appointment of Pail Willis as the new Skoda chief at Shanghai Volkswagen.
In the first half of this year, Skoda delivered more than 112,000 cars in China, up one-third from the same period last year, marking the best half-year performance since it began operations in the country in 2007.
Skoda's China sales surged 62 percent year-on-year to 200,000 cars in 2010, accounting for 1.75 percent of the total passenger car market.
Skoda aims to double its market share in China by 2018, which would be a substantial contribution to meeting its worldwide goal of delivering 1.5 million vehicles that year.
"The Chinese market is playing a key role in Skoda's global growth," said Winfried Vahland, Skoda board chairman.
The company said earlier that it expects to establish 400 dealerships in the country by the end of this year.
Related stories
Editor:Wang Chuhan |Source: China Daily