With the heat of July making daily life a drag, you need a refreshing escape. China.org.cn picks the top 8 best destinations to help you enjoy this summer.
NO.8 Yinchuan, Ningxia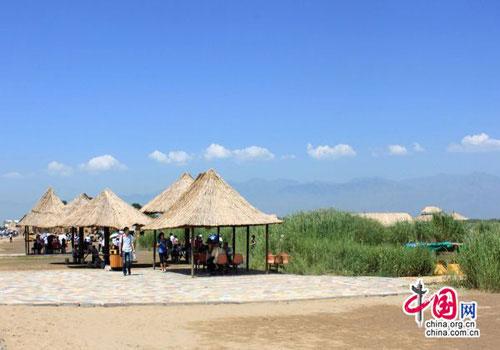 Yinchuan, capital city of Ningxia Province
Yinchuan in the north of Ningxia Hui Autonomous Region, northwest China, was the capital of the Tanguts in the Western Xia Dynasty (1038-1227), and is now the capital city of Ningxia. It is sheltered from the deserts of Mongolia by the high ranges of the Helan Mountains. The Yellow River runs southwest to northeast through the city. With the geographical features and its large portion of Hui people, the city is a wonderful place to enjoy unique natural beauty and experience a new culture. Sand Lake and the Western Xia tombs are the most famous attractions.
On July 8, the Halal Food Festival will kick off in Yinchuan with halal food and muslim appliance on exhibition. Visitors will also have the opportunity to watch ethnic Hui performances, showcasing colorful Hui clothing and the different tea culture.
Travel tips
Admission:
Sand Lake: 60 yuan
Western Xia tombs: 60 yuan
NO.7 Fenghuang Ancient Town, Hunan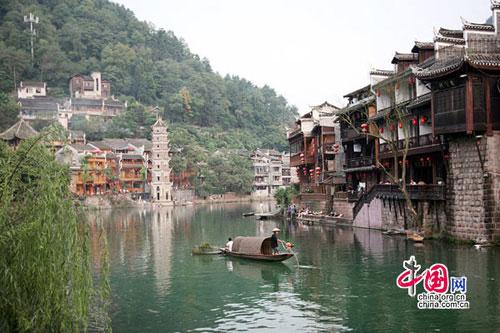 Fenghuang Ancient Town in Hunan
Located on the western edge of Hunan Province next to Guizhou, Fenghuang ancient town, also known as "Phoenix Town", is one of the most beautiful towns in China. With a long recorded history of 1,300 years, the town features distinct residential buildings, elegant bridges and mysterious towers and pagodas. Upon entering the town, the visitor will be impressed by its air of mystery, elegance and primitive simplicity. When an early morning mist sets in around the bridges over the water and houses on stilts, the area mirrors traditional Chinese paintings. Visiting a Miao village is a must when traveling in Fenghuang. Visitors will find a large array of silver ornaments, homemade tie-dyes, and unique local snacks.
Travel tips
Admission: 186 yuan
Opening Hours: 8:00-17:30
Getting there: Take buses from Jishou Railway Station or Jishou South Bus Station to Fenghuang, the ticket price is 15 yuan per person.