By Wu Yiyao (China Daily)
'China's American' Sidney Rittenberg, one of the few foreign members of the Communist Party of China, recalls the ups and downs of his years in the country. Wu Yiyao reports.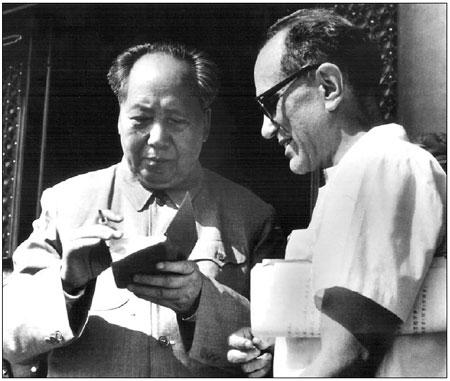 Sidney Rittenberg with Chairman Mao Zedong in the 1960s. Photos Provided to
China Daily
'I am American but I am China's American," says Sidney Rittenberg, an 89-year-old Communist Party member who spent 36 years in China. Widely known as Li Dunbai in China, he was called "a foreign member of the Communist Party of China of excellence" by Chairman Mao Zedong.
One of the very few foreign members of the CPC, he joined the United States communist party in college when he was 19.
At his home in Seattle, the closest US city to China by a 10-hour direct flight, Rittenberg recalls his arrival in China in 1945 with the US army on the Hump Airline.
Rittenberg arrived in Kunming right after the Japanese had surrendered unconditionally. At the age of 24, he was appointed to the US Army's Compensation Department for his proficiency in Chinese.
A rickshaw puller who lost his only child in a car accident caused by a drunk American surgeon received only $14 in compensation. The father even gave some of the money to Kuomintang officials for writing the claim for him.
"It struck me that he didn't think he had any rights whatsoever - that impressed me very deeply," Rittenberg says.
He wanted to stay to help people like the rickshaw puller. As his interest in the idealistic Party grew, he became acquainted with the secret CPC members in Kunming via a newsboy, and decided to stay in China when the US army was ready to return.
He relocated to US Army Headquarters in Shanghai and became acquainted with Soong Ching-ling, wife of Dr Sun Yat-sen, the forerunner of China's democratic revolution. Soon he became an official of the UN Relief and Rehabilitation Administration in China, enabling him to remain in the country.
"My heart was with the people. These were good people being wronged, being threatened," he says.
In 1946, Rittenberg helped establish the English Broadcast at Xinhua radio station and trained the first English broadcasters in China.
What excited the 25-year-old young man was his arrival at Yan'an where he found an ideal new world. The army did not request food and clothing from the locals. Everyone was equal and the system was democratic. He worked as the foreign expert at the Xinhua News Agency head office, taking charge of translation and editing, and advocating the Chinese Communist cause to the outside world.
The same year Rittenberg officially joined the CPC after being introduced by Li Xiannian and Wang Zhen (late Chinese leaders).
"A real Party member needs to withstand trials and tribulations," he says, recalling the experience of being wrongly jailed as a suspect "American spy", for six years from 1948.
When he was released in 1954, he waived the chance to return to the US, although he found out his wife had applied for a divorce in 1952, as she had not heard from him since his departure.
He wanted to stay in China and become a Chinese citizen, but after a talk with Zhou Enlai, he dropped the idea.
"Zhou said 'I want you to think, is it better to have one more Chinese Communist or to have one more American communist?' So I understood. I never applied," Rittenberg says.
He soon started his new job working in the Broadcast Administration of the Central Broadcast Bureau as a foreign expert in charge of editing articles to be sent or published abroad. He didn't expect that another marriage was just around the corner with Wang Yulin, a marriage that has lasted more than five decades since Feb 11, 1956.
In the early 1960s, Rittenberg became a member of the translation committee for Mao Zedong's selected works. His monthly salary was 600 yuan ($92) per month, seven times that of his colleagues. Even Chairman Mao received only 404 yuan a month.
But when he discovered an article about Jiao Yulu, a county-level CPC secretary who had dedicated his life to poverty relief, Rittenberg decided to change himself.
"Compared to a Communist like Jiao Yulu who had devoted himself wholeheartedly to serving the people, I enjoyed privileges and was alienated from the masses," he says.
So he took a pay cut, moved to a public office with the other translators and writers, and subjected himself to regular physical labor.
In 1966, the "cultural revolution" began.
"In that crazy era, we all did some strange, even ridiculous, things Back in that era, everything seemed so real and we had no choice," Rittenberg wrote in his memoir years later.
For the second time he was wrongly jailed as a suspect "American spy", in 1968. His wife Wang Yulin also suffered.
He was released in 1977 and finally absolved of all charges in 1982. He was hailed as having made "contributions to the revolutionary course of Chinese people".
Rittenberg had new obligations to fulfill when China and the US established diplomatic relation in 1979. That same year, he and his wife went to the US to visit his mother and sister for the first time in more than 30 years. It was then that he made another important decision - to return to the US.
"US understanding of China was very poor. So we decided to stay in the US to promote Sino-US friendship," he says.
He established Sidney Rittenberg Ltd, as a consultancy company on China-US trade issues. Although a two-person endeavor, with just him and his wife, it successfully helped big companies, such as Intel, Prudential Insurance, and Polaroid to develop their businesses in China.
Rittenberg and Mike Wallace, the correspondent for CBS' 60 Minutes, forged a deep friendship that led to Rittenberg facilitating Wallace's interview of Deng Xiaoping in 1986.
"I always wanted to become a bridge between the US and China," he says.
Today, Rittenberg is still working and learning, although he has handed most company business to his daughter.
Learning has always been one of the themes of his life, and China taught him much. "I really learned a different outlook on life in China," he says.
ICS China Visionaries contributed to the story.
Related stories
Editor:Wang Chuhan |Source: China Daily