SUNDVOLLEN, Norway - Norwegian police searched for more victims and a possible second gunman on Saturday after a suspected right-wing zealot killed up to 98 people in a shooting spree and bomb attack.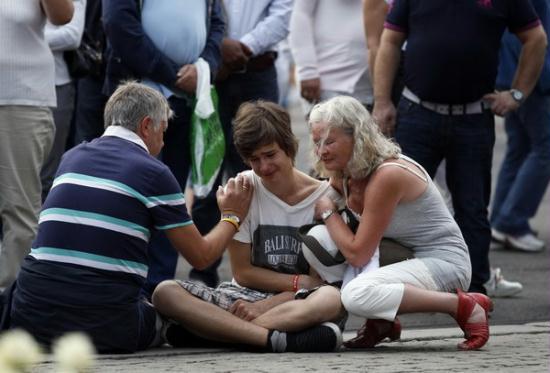 A young man is comforted as he mourns for the victims of the massacre on an island in the countryside and the bomb blast in the capital Oslo July 23, 2011. [Photo/Agencies]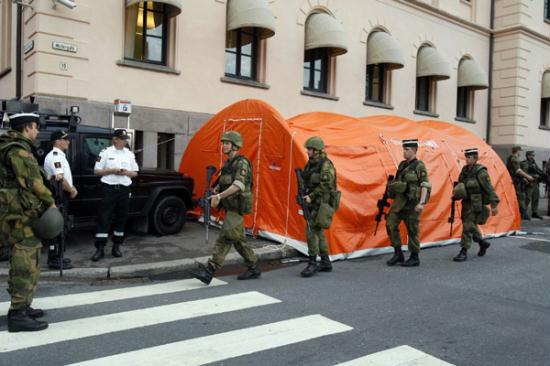 Norwegian army deploy near the blast site in the capital Oslo July 23, 2011. [Photo/Agencies]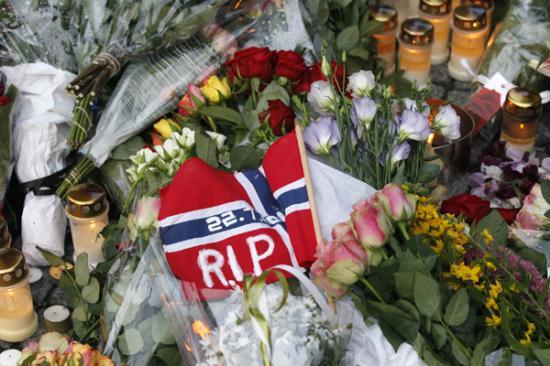 A Norwegian national flag is seen among flowers to mourn the victims of a shooting spree on an island in the countryside and a bomb attack in the capital Oslo July 23, 2011. Pope Benedict expressed sympathy Saturday for the victims of a suspected right-wing zealot who killed up to 98 people in both incidents and urged Norwegians to reject hatred and violence. [Photo/Agencies]
Anders Behring Breivik, 32, was arrested after Friday's massacre of young people on a tiny forested holiday island that was hosting the annual summer camp for the youth wing of Norway's ruling Labour party.
Prime Minister Jens Stoltenberg, sharing the shocked mood in this normally safe, quiet country of 4.8 million, said: "A paradise island has been transformed into a hell."
Breivik, a Norwegian, was also charged with the bombing of Oslo's government district that killed seven people hours earlier. If convicted on the terrorism charges, he would face a maximum of 21 years in jail, police said.
Breivik had belonged to an anti-immigration party and wrote blogs attacking multi-culturalism and Islam, but police said he had been unknown to them.
A video on the YouTube website promoting a fight against Islam apparently shows pictures of Breivik, wearing a wetsuit and pointing an automatic weapon.
The district attacked in Oslo is the heart of power in Norway. But security is not tight in a country unused to such violence and better known for awarding the Nobel Peace Prize and mediating in conflicts, including the Middle East and Sri Lanka.
Home-grown anti-government militants have struck elsewhere in the past, notably in the United States, where Timothy McVeigh killed 168 people with a truck bomb in Oklahoma City in 1995.
Witnesses said the gunman, wearing a police uniform, went on a prolonged shooting orgy on Utoeya island northwest of Oslo, picking off his prey unchallenged as youngsters scattered in panic or jumped in the lake to swim for the mainland.
A police SWAT team eventually arrived from Oslo, 30 km (19 miles) away, to seize Breivik after nearly 90 minutes of firing, acting police chief Sveinung Sponheim told a news conference.
"We don't know yet" if he acted alone, Sponheim said, adding that Breivik had surrendered immediately and had confessed. He defended the time it took to arrive, saying there were delays with getting a boat.