WENZHOU, July 24 (Xinhua) -- Chinese Vice Premier Zhang Dejiang on Sunday urged local authorities to mobilize all available resources to aid those who were affected by Saturday's deadly high-speed train crash in eastern Zhejiang Province.
Chinese Vice Premier Zhang Dejiang (C) presides over an meeting on relief work and investigation of the high-speed train crash in Wenzhou, east China's Zhejiang Province, July 24, 2011. Zhang is leading a work team in Wenzhou to assist in relief work and conduct an investigation into the accident. (Xinhua/Wang Ye)
Every effort should be made to save the life of the injured and provide counseling and aid for the relatives of the dead, Zhang said after visiting the scene of the accident, in which at least 35 people were killed and more than 200 people were injured.
Zhang said the State Council, or China's cabinet, has set up an investigative group chaired by Luo Lin, head of the State Administration of Work Safety, to look into the accident.
He pledged that the investigators will find out the cause of the accident and those responsible will be seriously punished according to laws.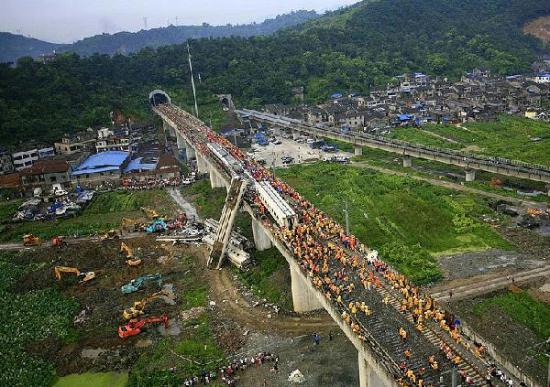 Photo taken on July 24, 2011 shows the accident scene where rescuers clear the wreckage in Wenzhou, east China's Zhejiang Province, after a train collision and derailment Saturday night. As of 9:30 a.m. (0130 GMT) Sunday, the death toll has risen to 35 and 210 others were injured. The accident occurred on a bridge near downtown Wenzhou when high-speed train D301 rear-ended the stalled D3115. Four carriages of D301 fell off the viaduct while two carriages of D3115 were derailed. (Xinhua/Chen Bin)
The Ministry of Railway earlier confirmed that three railway officials, including Long Jing, head of the Shanghai Railway Bureau; Li Jia, head of the bureau's Communist Party of China (CPC) committee, and He Shengli, a deputy chief of the bureau, were removed from their posts.
The accident occurred at 8:38 p.m. Saturday near the city of Wenzhou. High-speed train D301 rear-ended bullet train D3115, which lost power and stalled after being hit by lightning.
Four of the D301's coaches fell off of the bridge, while two of the D3115's coaches were derailed without falling off the bridge.
On Sunday morning, Zhang, on behalf of President Hu Jintao and Premier Wen Jiabao, visited some of the injured people at three hospitals in Wenzhou.
Shortly after the accident, Chinese leaders, including Hu, Wen, and Zhou Yongkang, a Standing Committee member of the Political Bureau of the CPC Central Committee, called for all-out efforts to rescue passengers and ordered to make rescue work a priority.
On Sunday Zhang also urged local authorities to clear the accident scene as soon as possible in order to ensure the resumption of train services.
He urged that information related to the accident and the rescue work should be released in an open and transparent manner.
Editor:Wang Xiaomei |Source: Xinhua