by Devapriyo Das
OSLO, July 24 (Xinhua) -- The suspect in Friday's bomb attack and shooting massacre in Oslo, Norway, has admitted responsibility and will appear in a court here Monday, according to authorities and his lawyer.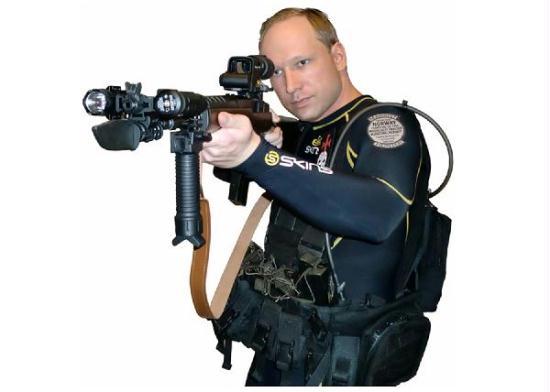 A picture of Anders Behring Breivik taken from a book downloaded from a link posted on the Norwegian discussion website, www.freak.no, and entitled "2083 - A European Declaration of Independence", is seen in this screen grab made July 23, 2011. (Xinhua/Reuters Photo)
Anders Behring Breivik, 32, will appear before the judges to "explain himself." If convicted, he could face a maximum sentence of 21 years in jail, authorities say.
"He is prepared to testify in open court about his motives and why he committed the actions he has admitted to," Geir Lippestad, Breivik's defense attorney, told reporters Sunday.
Earlier on Saturday, Lippestad said Breivik "has admitted it was atrocious to have performed these actions, but in his own head, it was necessary."
Norwegian police have confirmed Breivik's admission and said he claimed to have acted alone.
"He has admitted that he was responsible for the bomb attack and for the killing of people on Utoeya island," a police spokesman told a press conference in Oslo on Sunday.
Police said Breivik did not resist when armed officers arrested him on the tiny holiday island of Utoeya 40 km west of Oslo.
By that time, he had killed 86 people, mostly teenagers attending a summer camp for the youth wing of Norway's ruling Labor Party, in a shooting spree that lasted about 90 minutes, according to eye witnesses.