OSLO, Norway - Police arrived at an island massacre about an hour and a half after a gunman first opened fire, slowed because they didn't have quick access to a helicopter and then couldn't find a boat to make their way to the scene just several hundred yards (meters) offshore. The assailant surrendered when police finally reached him, but 82 people died before that.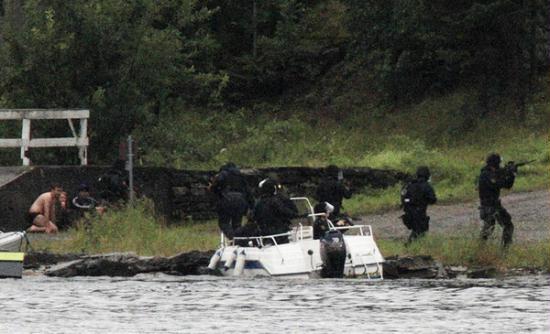 People watch as members of Norwegian Special Forces land by boat on the shore of the island of Utoeya July 22, 2011, after a shooting took place at a meeting of the youth wing of Norway's ruling Labour Party. The man suspected of Norway's gun and bomb massacre liked guns and weight-lifting, had belonged to an anti-immigration party and opposed multi-culturalism, Islam and the "cultural Marxists" of the establishment. Police said Anders Behring Breivik, detained after 85 people were gunned down at a youth camp and another seven killed in a bomb attack on Friday, was previously unknown to them and people who knew him said he was quiet, if intense. Picture taken July 22, 2011. [Photo/Agencies]
Survivors of the shooting spree have described hiding and fleeing into the water to escape the gunman, but a police briefing Saturday detailed for the first time how long the terror lasted - and how long victims waited for help.
The shooting came on the heels of what police told The Associated Press was an "Oklahoma city-type" bombing in Oslo's downtown: It targeted a government building, was allegedly perpetrated by a homegrown assailant and used the same mix of fertilizer and fuel that blew up a federal building in the US in 1995.
In all, at least 92 people were killed in the twin attacks that police are blaming on the same suspect, 32-year-old Norwegian Anders Behring Breivik.
"He has confessed to the factual circumstances," Breivik's defense lawyer, Geir Lippestad, told public broadcaster NRK. Lippestad said his client had also made some comments about his motives.
"He's said some things about that but I don't want to talk about it now," the lawyer told NRK.
Norwegian news agency NTB said the suspect wrote a 1,500-page manifesto before the attack in which he attacked multiculturalism and Muslim immigration. The manifesto also described how to acquire explosives and contained pictures of Breivik, NTB said. Oslo police declined to comment on the report.
A SWAT team was dispatched to the island more than 50 minutes after people vacationing at a campground said they heard shooting across the lake, according to Police Chief Sveinung Sponheim. The drive to the lake took about 20 minutes, and once there, the team took another 20 minutes to find a boat.
Footage filmed from a helicopter that showed the gunman firing into the water added to the impression that police were slow to the scene. They chose to drive, Sponheim said, because their helicopter wasn't on standby.
"There were problems with transport to Utoya," where the youth-wing of Norway's left-leaning Labor Party was holding a retreat, Sponheim said. "It was difficult to get a hold of boats."
At least 85 people were killed on the island, but police said four or five people were still missing.
Divers have been searching the surrounding waters, and Sponheim said the missing may have drowned. Police earlier said there was still an unexploded device on the island, but it later turned out to be fake.
The attack followed the explosion of a bomb packed into a panel truck outside the building that houses the prime minister's office in Oslo, according to a police official.
"It was some kind of Oklahoma City-type bomb," said the official, who spoke on condition of anonymity because police hadn't released the information.
Seven people were killed, and police said there are still body parts in the building. The Oslo University hospital said it has so far received 11 wounded from the bombing and 19 people from the camp shooting.
Police have charged Breivik under Norway's terror law. He will be arraigned on Monday when a court decides whether police can continue to hold him as the investigation continues.
Authorities have not given a motive for the attacks, but both were in areas connected to the Labor Party, which leads a coalition government.
Even police confessed to not knowing much about the suspect, but details trickled out about him all day: He had ties to a right-leaning political party, he posted on Christian fundamentalist websites, and he rented a farm where police found 9,000-11,000 pounds (4,000-5,000 kilograms) of fertilizer.