By Zhou Wenting (China Daily)
BEIJING - Nongfu Spring, a major Chinese producer of bottled water, on Sunday dismissed claims that worm eggs were discovered in some of its products.
"It never happened. The worm eggs were actually on the outside of the bottles, not the inside," the company said in an e-mail statement to the media.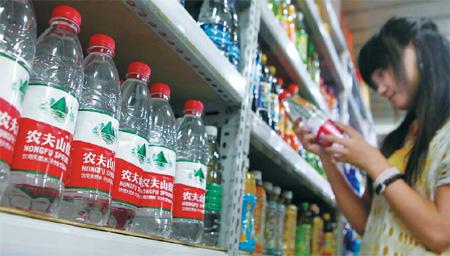 Nongfu Spring water on sale as usual in a supermarket in Beijing on Sunday,
despite a father and son claiming they found worm eggs in the caps of some
of the brand's bottles. [Wang Jing / China Daily]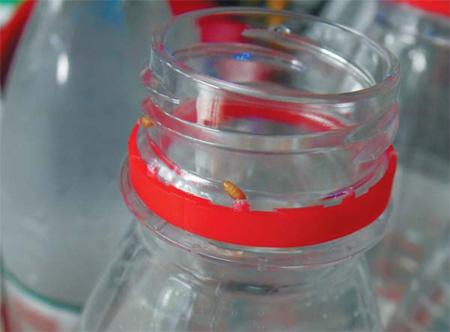 Highlighted circles show some of the eggs found on bottles of Nongfu Spring
water. Li Zhenwu / for China Daily
It was responding to claims by a shopkeeper, Li Xiru, and one of her customers that when they opened some bottles on Thursday they found small eggs inside the screw caps.
The customer Li Zhenwu said his 12-year-old son vomited and suffered diarrhea after drinking the water, and demanded compensation.
However, the statement said that reports about how the consumer complained and would be compensated were incorrect: "He (Li Zhenwu) asked for 10,000 yuan ($1,550) in compensation, which is obviously unreasonable."
Li Zhenwu and his son Li Jiabao went to Li Xiru's shop in Tongzhou district on Thursday evening after finding the worm eggs in the bottle caps.
"We bought three 550-ml bottles of (Nongfu Spring) water that afternoon," said Li Zhenwu, who recalled his son screaming after swallowing a mouthful of water and seeing eggs in the cap.
"The cream-colored eggs were as big as sesame seeds. The water delivery workers came to the shop, opened another five bottles and we saw eggs in the caps of three bottles," said the angry father.
Doctors later diagnosed the boy as having acute enteritis.
"Nobody from the company has contacted us," Li Zhenwu said angrily.
The shopkeeper, who hails from Henan province, said that three delivery workers for Nongfu Spring, who usually come to replenish her stock, came on Thursday and wanted to take away the bottles.
"But I refused. I need the caps as proof because the water company should be responsible for the incident, not me," she said, adding that the packaging revealed the water was bottled on June 6 in Jingyu county, Jilin province.
"Those boxes of water are still in my shop," she said.
Beijing Times earlier quoted a regional sales manager for Nongfu Spring named Wang as saying hundreds of boxes of water had been taken off the shelves and that "the suspicious products had been sent for tests".
The statement by Nongfu Spring denies this.
Prior to the e-mail statement, China Daily contacted sales manager Wang on his cell phone. He asked if the caller was a reporter and then said: "You've found the wrong person." Subsequent calls went unanswered.
A member of staff who answered the phone at the company's headquarters on Sunday in Hangzhou, capital of Zhejiang province, said media officers do not work on weekends. Calls to its Beijing office and plant in Jingyu also went unanswered.
A food packaging expert said if there really were worm eggs in the bottles, it could suggest faults in the company's safety screening process.
"Caps can be polluted during shipping and storage, and must be thoroughly disinfected before being screwed to the bottles," said Dong Jinshi, executive vice-president of the International Food Packaging Association.
"All the products need to go through ultraviolet disinfecting after sealing and being put into boxes, as this is capable of killing worm eggs and bacteria," Dong said. "Many businesses skip the process, believing the previous procedures are already enough to ensure safety."
Related stories
Editor:Wang Chuhan |Source: China Daily