By Ding Qingfen (China Daily)
Manufacturers look to developing countries as US and EU falter
BEIJING - Three years ago, when the global financial crisis hit, Matthew Yang thought the worst had come. Unfortunately for him, he was wrong.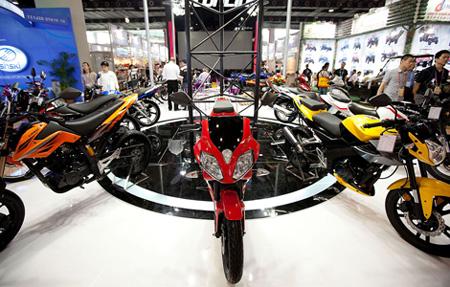 Motocycles displayed at a booth during the Canton Trade Fair in Guangdong
province in April. China's exporters are facing pressure from rising labor
and raw material costs as well as the appreciation of the yuan.
[Photo / Agencies]
Yang, a sales executive at a chemicals company, is preparing to travel to Brazil and Colombia to seek new business opportunities to make up for contracts with developed countries lost in the aftermath of the meltdown.
As deputy manager of sales at Guangdong Zhongcheng Chemicals Inc Ltd, a direct competitor of the world's leading chemical company BASF, Yang traveled to Latin America two years ago.
"Now I will go there more frequently than before, looking for possibilities for business cooperation, because we have decided to develop the emerging markets, such as Latin America and Southeast Asia."
As the world's largest exporter of sodium hydrosulfite, widely used for textile dying and pulp bleaching, Zhongcheng exports products mainly to the United States, the European Union and Japan. In 2010, its exports amounted to 85,000 tons worth $90 million.
But because the recovery of these developed economies remains slow and uncertain, the exports situation is "deteriorating".
"The second quarter was the worst that we have ever experienced since 2008, even worse than the last quarter of 2008," said Yang.
About 45 percent of Zhongcheng's exports go to the US. The company accounts for 50 percent of US imports of sodium hydrosulfite.
Now there are few signs that things will get better in the coming months. "We have to expand our overseas sales network to developing nations," said Yang.
Zhongcheng is only one of tens of thousands of Chinese manufacturers and exporters that have suffered from the uncertain global economic recovery and the worsening business environment both at home and abroad.
According to the General Administration of Customs, from January to June, China's exports grew by 24 percent from a year earlier to $874.3 billion, compared with 35.2 percent during the same period of 2010.
China's year-on-year export growth has been declining month-by-month during the first half, dropping to 17.9 percent in June from 37.7 percent in January.
"Although there is still double-digit growth for China's exports, the situation for its exporters is getting worse," said Zhang Ji, direct general of the Ministry of Commerce's Department of Mechanic, Electronic and High-tech Industry.
According to the ministry, China's exports of machinery and electronic goods increased by 13.8 percent year-on-year in June, down from 35.3 percent for January.
Figures from the National Bureau of Statistics showed China's net exports contributed a negative 0.7 percentage points to its gross domestic product during the first half of the year.
Domestic consumption
As part of its 12th Five-Year Plan (2011-2015), China said it will try to rely more on domestic consumption to drive up its economic growth in the next five years, rather than exports.
Thanks to its large number of laborers and comparatively cheap labor costs, China's exports have been on a fast growth track during the past three decades since the nation launched the reform and opening-up policy.
But the rapid growth came to a halt in 2009, with Chinese exports dropping by 16 percent year-on-year, as overseas demand for Chinese goods shrank following the financial crisis.
During the past year, Chinese companies such as Zhongcheng found the situation had become more complicated and harder to deal with. They started to receive multiple shocks from rising raw material prices and wages, revaluation of the yuan and a growing number of disputes with its trading partners, in addition to shrinking overseas orders.
Since 2008, wages for contract workers in Zhongcheng have grown by 50 to 100 percent. During the first half of this year alone, the figure surged 20 percent compared with a year ago, said Yang.
Some toy and textile factories in China's coastal regions have closed down amid the growing pressures home and abroad.
"About one third of the top 200 companies involved in the processing trade registered negative growth during the first half," said Zhang. "A batch of companies will be struggling in coming months, with some dying out."
As China's leading wood floor exporter, Shenzhen Yekalon Development Co Ltd saw a rise of 50 percent in overseas sales during the first half of the year. However, rising wages soaked up all the profits, with some staff members' wages doubling this year, said He Yixin, the corporate chairman.
"It's a really big headache for us," said He.
According to the Ministry of Human Resources and Social Security, during the first quarter, 13 municipalities and cities in China raised the minimum wage by an average of 21 percent.
By 2015, China will try to gradually raise the minimum wage by an annual average of more than 13 percent, said Yang Zhiming, vice-minister of the ministry, during a news briefing in April.
Currency appreciation is another challenge. Since June 2010, when the Chinese government pledged to increase currency flexibility, the yuan has surged by more than 5.6 percent. Many economists predict the yuan could further rise during the second half of this year by another 2 to 3 percent.
Hangzhou Zhongce Rubber Co Ltd, one of China's top three tire exporters, is suffering from similar problems to Zhongcheng and Yekalon.
"Endless trade remedy cases and continuously rising prices of raw materials are what troubled us most over the past months," said Ge Guorong, vice-general manager of Zhongce, in Zhejiang province.
Since 2001, when China was awarded its landmark World Trade Organization (WTO) membership, the country's tire exports have been growing rapidly. By the end of 2010, Zhongce's overseas sales had grown by 11 times the 2001 level.
But the explosive growth was followed by a series of trade remedy cases launched by both developed and developing nations from Latin America and Africa to the US and Asia.
The special safeguard investigation and final ruling launched by the US in 2009, the first such measures against Chinese tire exporters during the Barack Obama administration, was almost disastrous for Zhongce. They caused a sharp decline in the company's sales to the US, its major export destination, from 2010, when the ruling came into force.
For years, 35 percent of Zhongce's exports went to the US but since 2009 "our sales (to the US) decreased by 20 to 30 percent annually", said Ge.
"There will be a bigger drop in our sales to the US this year," he added.
The fast rise in natural rubber prices worldwide, which now accounts for 50 percent of the costs in tire making, has also squeezed profits at the company.
In November 2009, natural rubber was priced at 16,000 yuan ($2,480) a ton. The cost began rising this year, at one stage climbing by 140 percent to as high as 39,000 yuan a ton.
"Probably, the price will continue to increase," said Ge.
In 2010, Zhongce's overseas sales reached $800 million. "We expect to have overseas sales of about $1 billion," was Ge's prediction for this year.