Every morning Palbar gets up at 7 o'clock and run around the Lhalu Wetland, now protected as a national nature reserve in northern Lhasa. He likes the feeling very much when breathing in the clearest air in the morning near the "lung" of the city.
Around the water-environed wetland, many other morning-exercisers share the same satisfaction with Palbar.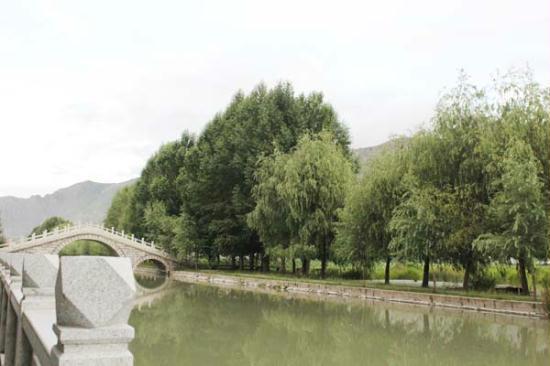 The wetland is surrounded by a vital river. The river bank is paved and many local residents exercise just nearby. [Photo/China Tibet Online]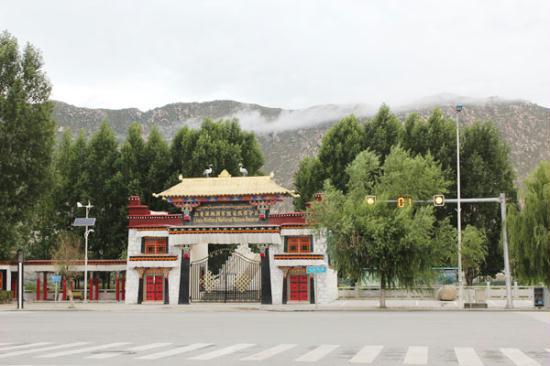 The newly erected gate for the Lhalu Wetland National Nature Reserve. [Photo/ China Tibet Online]
A conservation project dedicated to the protection of the Lhalu wetland was initiated early in 1995, and a variety of protection measures have been taken to effectively ensure the local biodiversity preserved and vegetation coverage increased.
"Lhalu Wetland is a natural oxygen bar," commented a Tibetan girl sitting just near the wetland and watching "Gossip Girl" on her own Ipad. She has freshly graduated from Beijing Normal University this year and decided to serve in the local government in late July.
For most young Tibetans, living an environment-friendly lifestyle has been widely taken as one of the sets of modern creeds.
The girl who anonymed her name says: it is not reasonable for Tibetans to chase the caterpillar fungus rush nowadays. We should pay attention to future living conditions, working together to build up a sustainable environment.
An environmental official of the municipal government tells that the Lhalu Wetland boasts an overall area of 12.2 km², with a 6.6 km²core zone, a 3.39 km²buffer zone and a trail zone of 2.21 km². The total area of the core zone equals 11.5 percent of the urban area.
"Lhalu Wetland means so much for us. We should protect it," Palbar is happy with the government's efforts to have built the wetland into a national level nature reserve.