OSLO, July 25 (Xinhua) -- Norway's prosecutors have asked the court to hold a close-door custody session on Monday for Anders Behring Breivik, charged with Friday's twin attacks in the country which led to more than 90 deaths.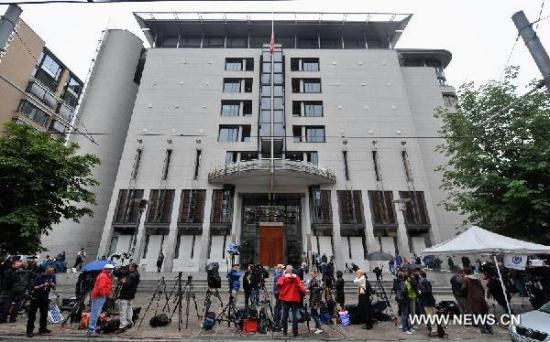 Journalists wait outside the Oslo district court in Oslo, capital of Norway, July 25, 2011. Anders Behring Breivik, the suspect in the Norway twin attacks killing at least 93 people, will be brought to the court for the first time since his arrest. The court is first expected to rule on whether the hearing will be open to the public and then decide on Breivik's custody conditions. (Xinhua/Wang Qingqin)
The prosecutors also said they will ask for eight weeks of pre-trial detention for the 32-year-old Norwegian, who allegedly killed seven people in a downtown explosion in Oslo on Friday and then gunned down 86 more on a island some 40 kilometers from the capital the same day.
The judge has not yet made the final decision on whether the hearing, expected to start after 11 a.m. GMT and to see Breivik's first court appearance, would be open to the public or behind closed doors.
Earlier reports quoted Breivik's lawyer saying the suspect hoped to explain the motives for his actions during Monday's session.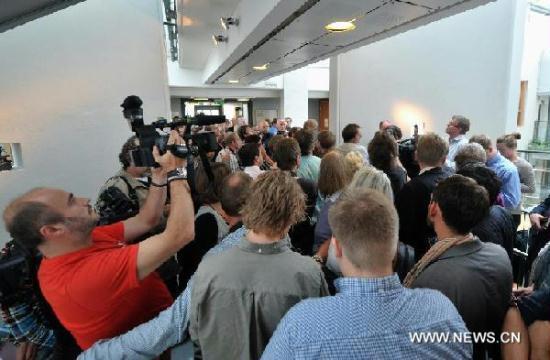 Journalists wait inside the Oslo district court in Oslo, capital of Norway, July 25, 2011. Anders Behring Breivik, the suspect in the Norway twin attacks killing at least 93 people, will be brought to the court for the first time since his arrest. The court is first expected to rule on whether the hearing will be open to the public and then decide on Breivik's custody conditions. (Xinhua/Wang Qingqin)
Journalists wait inside the Oslo district court in Oslo, capital of Norway, July 25, 2011. Anders Behring Breivik, the suspect in the Norway twin attacks killing at least 93 people, will be brought to the court for the first time since his arrest. The court is first expected to rule on whether the hearing will be open to the public and then decide on Breivik's custody conditions. (Xinhua/Wang Qingqin)
Related stories
Editor:Zhang Dan |Source: Xinhua