OSLO, July 25 (Xinhua) -- A Norwegian court on Monday ordered eight weeks of detention for 32-year-old Norwegian Anders Behring Breivik charged for killing more than 90 people in Friday's bombing and shooting rampage, local media reported.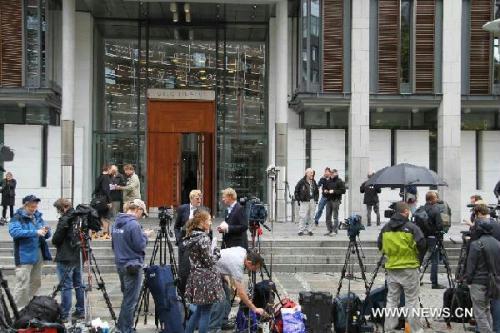 Journalists wait outside the Oslo district court in Oslo, capital of Norway, July 25,
2011. Anders Behring Breivik, the suspect in Friday's bomb attack and shooting massacre
in Oslo, Norway, has admitted responsibility and will appear in a court here Monday,
according to authorities and his lawyer. (Xinhua/Yang Jingzhong)
The ruling was made after a close-door hearing Monday afternoon lasting less than an hour.
Local media citing a judge said Breivik confessed to bombing and shooting, but refused to admit guilty during the hearing.
The goal of his Friday attacks was to "give a strong signal to the people," he was quoted as saying.
Related stories
Editor:Xiong Qu |Source: Xinhua