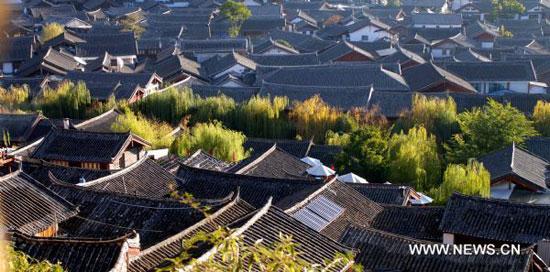 File photo taken on November 12, 2006 shows the ancient architectural complex in Lijiang, southwest China's Yunnan Province. The old town of Lijiang was formally licened as the national 5A tourism attraction spot, the top one among China's tourism ranking system, on July 27, 2011, after it passed the evaluation recently. With a history of more than 800 years, the old town of Lijiang, a UNESCO World Heritage site, is one of the surviving ancient towns in China. (Xinhua/Qin Qing)
Tourists walk on a street in Lijiang, southwest China's Yunnan
Province in this file photo taken on June 7, 2011. The old town
of Lijiang was formally licenced as the national 5A tourism
attraction spot, the top one among China's tourism ranking
system, on July 27, 2011, after it passed the evaluation
recently. With a history of more than 800 years, the old
town of Lijiang, a UNESCO World Heritage site, is one of the
surviving ancient towns in China. (Xinhua/Qin Qing)
Tourists purchase traditional lanterns in Lijiang, southwest
China's Yunnan Province in this file photo taken on October 25,
2008. The old town of Lijiang was formally licenced as the
national 5A tourism attraction spot, the top one among China's
tourism ranking system, on July 27, 2011, after it passed the
evaluation recently. With a history of more than 800 years,
the old town of Lijiang, a UNESCO World Heritage site, is one of
the surviving ancient towns in China. (Xinhua/Qin Qing)
File photo taken on April 25, 2010 shows the traditional
houses in Lijiang, southwest China's Yunnan Province. The
old town of Lijiang was formally licenced as the national
5A tourism attraction spot, the top one among China's
tourism ranking system, on July 27, 2011, after it passed
the evaluation recently. With a history of more than 800
years, the old town of Lijiang, a UNESCO World Heritage
site, is one of the surviving ancient towns in China.
(Xinhua/Qin Qing)
More stories:
Splendid landscapes, the exotic ways of the Naxi ethnic group and the precious Dongba Culture make up the unique city of Lijiang. Each year it attracts a great number of visitors from home and abroad.
World Cultural Heritage: The Old Town of Lijiang
Cleverly integrating the economy, strategically important places and rugged terrain, the Old Town of Lijiang perfectly preserved and reproduced its style of primitive simplicity. The buildings in the old town experienced the induction of the dynasties and have seen much of the changes.