SHANGHAI - Sun Yang became the NO 1 male swimmer of China as the 19-year-old eclipsed the 10-year-old world mark of the men's 1,500m freestyle to clinch his second gold at the 14th FINA World Championships here on Sunday.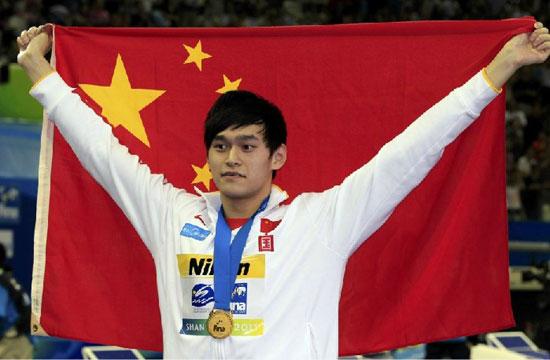 Sun Yang poses with his gold medal and national flag after the men's 1500m freestyle final
at the 14th FINA World Championships in Shanghai July 31, 2011. [Photo/Agencies]
Sun, already won the 800m freestyle on Wednesday, retained his solo stage in the world's long-distance freestyle events.
He led the pool with an overwhelming advantage and stormed to victory in 14:34.14, beating the world record of 14:34.56 set by Australian Grant Hackett on July 29, 2001.
Sun thus became the first male swimmer of China to grab two golds in one championships.
Gold medallist Sun Yang, silver medallist Canada's Ryan Cochrane (L) and bronze medallist
Hungary's Gergo Kis (R) pose at the medals ceremony after the men's 1500m freestyle final
at the 14th FINA World Championships in Shanghai July 31, 2011. [Photo/Agencies]
He also is the second swimmer in Shanghai to shatter a world record in a post hightech suit era after American talent Ryan Lochte's triumph in 200m individual medley.
The triumph is a new breakthrough for Chinese male swimmers.
In the 2009 Rome World Championships, Zhang Lin broke the world record in the 800m freestyle final, becoming the first male world champion for China. He also ended half a century world-mark drought for Chinese male swimmers.
Two years later in Shanghai, Zhang's teammate Sun furthered the progress.
Although losing to South Korean swimming talent Park Tae-hwan to settle for the silver in the 200m freestyle last Sunday, Sun regained his momentum to win the following two individual disciplines in Shanghai.
In last year's Asian Games, Sun had been listed as a promising star for the host as he was only 0.87 seconds off Grant Hackett's record in the 1,500m final.
And less than one year later, Sun has proved he can play a leading role in Chinese swimmers.
Tonight, at the moment Sun touched the wall, the dubbed "Sea Crown" indoor stadium was immersed into wildness by the thunderous cheers and applause from the full stands.
His reception and popularity are nearly the same to those of Chinese athletic star Liu Xiang.
"He (Liu Xiang) created history in the Athens Olympics in 2004 when I watched him on TV. It was an exciting moment. And I dreamed then one day I could achieve what he did and trained as hard as he did," said the winner.
"Now, I am delighted to have achieved my goal. I didn't think about breaking the world record before the race.
"I have to improve my mentality in future. I'm still young, and I don't want to put myself under too much pressure," he added. The sunny big boy is always in a steady mood even after his great success.
On next year's London Olympics, the 1.98m tall Sun said he should "start from zero".
"Since I won the bronze in Rome two years ago, I've grown up a lot. With the London Games one year away, I should be more strict with myself and start from zero."
"Hopefully I can create miracles at the Olympics and just swim like tonight's show," said Sun.
China's Sun Yang wins Men's 800m freestyle
On day four of the swimming finals at the World Aquatics Championships in Shanghai, Sun Yang had a chance to give China its third swimming gold in the men's 800-meter freestyle.
Full story >>