WASHINGTON — Racing the clock to avoid a government default, President Barack Obama and Republican congressional leaders reached historic agreement Sunday night on a compromise to permit vital US borrowing by the Treasury in exchange for more than $2 trillion in long-term spending cuts.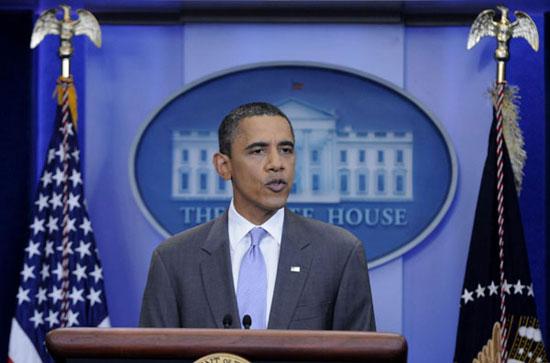 US President Barack Obama delivers remarks on the debt ceiling crisis in the briefing room
at the White House in Washington July 31, 2011. [Photo/Agenices]
President Barack Obama says Republican and Democratic leaders in the House and Senate have reached an agreement with him to raise the government's debt ceiling and avoid a default.
Obama told the nation on television that more than $2 trillion in spending cuts will be imposed gradually so they don't create a drag on the economy.
He said the spending cuts will reduce government spending to the lowest level it has been since when Dwight Eisenhower was president in the 1950s. He said there will be no initial cuts to entitlement programs like Social Security and Medicare. But he said both could be on the table along with changes in tax law as part of future cuts.
Officials said Speaker John Boehner telephoned Obama at mid-evening to say the agreement had been struck.
No votes were expected in either house of Congress until Monday at the earliest, to give rank and file lawmakers to review the package.
Related stories
Editor:Yang Jie |Source: China Daily