AMMAN - Syrian tanks occupied the main square in central Hama Wednesday after heavy shelling of the city, residents said, taking control of the site of some of the largest protests against President Bashar al-Assad.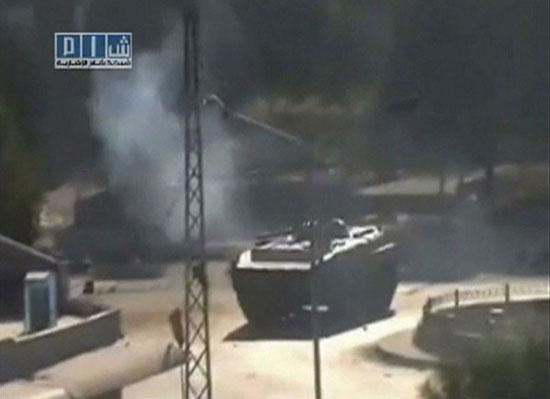 Smoke is seen near a tank at Al-Bahra roundabout in Hama in this still image taken from
video made available on August 3, 2011. [Photo/Agencies]
Human rights campaigners say more than 90 people have been killed in Hama since Assad unleashed a military assault on Sunday to regain control of the city.
At the United Nations, the Security Council condemned human rights violations and the use of force against civilians by the Syrian authorities - its first substantive action on the five-month-old uprising.
But it urged all sides to act with restraint, reflecting divisions among world powers on how to deal with the crisis.
Wednesday's push into the heart of Hama coincided with the opening of the trial in Egypt of former President Hosni Mubarak, toppled by an uprising which shook the Arab world and inspired the protests against Assad.
He said tanks and military units including paratroopers and special forces were seen moving to the central Orontes Square from the south, accompanied by militia known as 'shabbiha'.
A Syrian pharmacist who managed to talk with her family in the city said that they had tried to flee but that the 'shabbiha' were randomly shooting residents. Several buildings in Hama had caught fire from tank shelling and snipers were in position on rooftops in Orontes Square, she said.
The Local Coordination Committees grassroots activists' group said in a statement the authorities were trying prevent any news from emerging on the ferocity of the assault. The group could no longer contact its members in Hama.
"Communications have been totally cut off in Hama, together with water and electricity. There is a big movement of refugees trying to flee the city," the statement said.
Authorities say the army has entered Hama to confront gunmen who were intimidating residents. The assault suggests Assad will resist calls for change that have swept Syria and much of the Arab world, and has led to Western calls for tougher international measures.
End all violence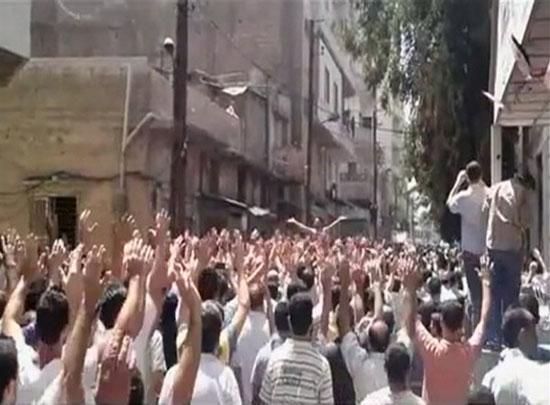 Protesters march through a street as they carry men (unseen) believed to be killed
protesters in Homs, in this undated still image taken from amateur video made available on
August 2, 2011. [Photo/Agencies]
Syria's neighbor Lebanon disassociated itself from the formal statement agreed by the other 14 members of the UN Security Council. A Lebanese envoy said the Western-drafted statement would not help the situation.
The council called for "an immediate end to all violence and urges all sides to act with utmost restraint, and to refrain from reprisals, including attacks against state institutions."
That phrase was a gesture to Russia and other countries that had called for a balanced statement that would apportion to both sides blame for the violence. Western nations say the two sides cannot be equated.
Washington says Assad has lost legitimacy and has imposed sanctions on the president and his top officials, but has stopped short of directly calling on him to leave office as it did to Mubarak and Libya's Muammar Gaddafi.
Western officials fear instability in Syria and the wider Middle East if protesters oust Assad, whose family has ruled for four decades and kept Syria's frontier with the Israeli-occupied Golan Heights quiet despite its anti-Israel alliance with Iran.
The White House slightly hardened its stance Wednesday, saying the United States viewed him as the cause of instability in the country.
"Syria would be a better place without President Assad," White House spokesman Jay Carney said at a news conference.
Editor:Yang Jie |Source: China Daily