China giving HSBC Holdings Plc entry to its gold futures market, a first for a foreign bank, is likely a harbinger of a further opening to local and overseas institutions to trade the precious metal, Reuters reported Wednesday.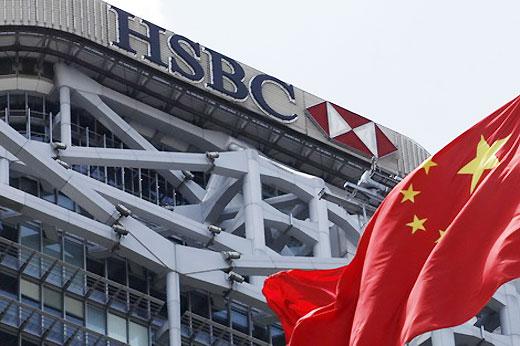 A Chinese national flag flies in front of the HSBC headquarters in Hong Kong August 1,
2011.[Photo/Agencies]
For the Shanghai Futures Exchange, which has received tepid interest in its gold futures, having HSBC as a trading member is arguably one of the best endorsements to show that it will play a larger role in China's booming gold market.
That process in turn will enhance the lagging role of futures in Shanghai's gold market -- an essential component to its hopes of becoming a major gold trading centre on a par with London and New York.
But that opening up is likely to be confined to gold for now, analysts say, as China wants to keep a tight grip on the futures markets for other commodities from copper to soybeans.
"It is a structural shift and has a deep symbolic importance," Chen Baizhu, a professor of finance at the USC Marshall School of Business, said of the HSBC move.
"It sends the signal that Chinese regulators are ready to take the next step to develop its gold market and are ready to start linking up with international players."
China's moves to free up its gold market will not only create more trading opportunities for foreign banks, but it will also allow them to tap growing local demand for gold investment products.
In the longer term, being a major gold trading centre would boost the country's clout in setting global prices.
Editor:Yang Jie |Source: China Daily