GUANGZHOU - Paul Jacobs, chairman and chief executive officer of Qualcomm Inc, said the biggest challenge for him since he took over the company in 2005 was to turn Qualcomm from an enemy disliked by many industry players to a popular and amiable partner.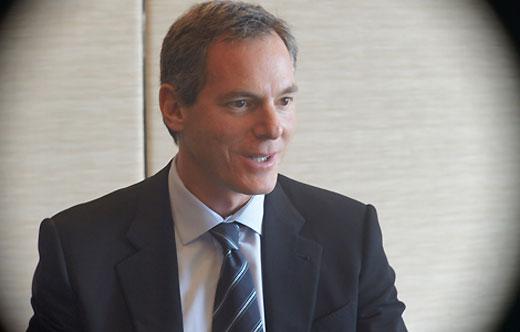 Paul Jacobs, chairman and chief executive officer of Qualcomm Inc
The company, which was founded by his father, Irwin Jacobs, in the United States city of San Diego in 1985, had been known for providing support for a digital wireless technology named Code Division Multiple Access (CDMA).
Unlike his father, who closely focused on CDMA technology, the son has a much broader vision and he strongly believes in the upcoming mobile Internet, in which cell phones are going to be the devices that everybody uses and connects to the Internet.
The idea has driven Jacobs junior to expand his father's business into two major parts - mobile phone chipset production and patent licensing. The patent licensing includes CDMA technology and European-adopted technology Wideband Code Division Multiple Access (WCDMA).
Jacobs said he has witnessed some critical changes in the past six years. Instead of being caught up in lawsuits concerning intellectual rights, which used to be a common occurrence, companies have begun to regard Qualcomm as a good partner.
"Partnership was the thing we were missing," he said in an exclusive interview with China Daily. It was great that Qualcomm had been known for two things - innovation and execution - because the company would come up with new things and would deliver qualified chips on time.
However, many companies didn't like Qualcomm because it imposed high intellectual property royalties on its products. "They felt like they were our hostages. They didn't like us. They resented us," Jacobs recalled.
So in the first all-hands meeting after the son took the helm in 2005, he got up and said: "We are going to be known for three things - innovation, execution, and partnership."
The company seemed to benefit from the decision and win back partners. Qualcomm and Nokia Corp, the world's biggest mobile phone maker by volume, had fought for years over intellectual property disputes since Jacobs started to act as CEO.
Now the two companies have settled the lawsuits and are working together in San Diego to develop Nokia's first smart phone running on a Windows platform.
Nokia Corp's chief executive officer, Stephen Elop, said Qualcomm would be "an important partner" as his company is about to enter the Windows phone era.
"But Nokia still has a general strategy that we would like to have multiple partners for critical components," Elop said at the Nokia Connection 2011 event in Singapore in June.
Jacobs said he is "very excited about that opportunity", as Nokia eventually paved the way to adopt Qualcomm's chips. "Our relationships are good and I think they will be even better when the first batch of Nokia phones starts to come out."
Currently, all nine Windows phone models in the world's markets are powered by Qualcomm's Snapdragon chips, said the company.
"Qualcomm has the lead position on Windows Phone and it will take its competitors time to get up to speed on that operating system," Jon Erensen, research director of Gartner's mobile handset and consumer electronic semiconductors, wrote in an email to China Daily.
Qualcomm also sees good partnerships growing in the Chinese market, as China contributed the biggest revenue share of 29 percent in the company's 2010 fiscal year, surpassing South Korea.
In China, the most important strategic alliance for Qualcomm is China Telecom Corp Ltd, the smallest telecom carrier of the country. The operator took the 3G license in 2009 and runs a CDMA network in China.
China's CDMA industry chain has flourished since 2009. Wang Xiaochu, general manager of China Telecom Corp Ltd, said the toughest time for China's CDMA terminal industry chain had passed, since the market volume grew to 41.9 million units in 2010 from 7.67 million mobile phones in 2008.
China Telecom expects to sell more than 60 million CDMA mobile phones in 2011 and, by mid-June, about 25 million units had already been shipped.
"China Telecom is really where the center of the CDMA universe is now. It used to be more North American focused. Now I think it's much more about China and Asia," Jacobs said.
Qualcomm could be one of the companies that benefits most from China's booming CDMA industry, since the company dominates the world's CDMA chip market.
Meanwhile, the company has also cooperated with China Unicom to help produce WCDMA handsets.
Qualcomm's relationship with China Mobile Ltd, the world's biggest telecom carrier with more than 600 million subscribers, was relatively weak in the past. China Mobile adopted GSM technology in the 2G era and home-grown TD-SCDMA technology in the 3G era. Qualcomm had few products supporting these standards.
But Jacobs said his company's latest chips, such as dual-core MSM 8960, are about to support various international telecommunication standards, including TD-LTE technology, which China Mobile is actively promoting.
Since China is now the world's biggest mobile phone production country and mobile phone market, Qualcomm would really like to build up its partnerships with Chinese carriers and mobile phone makers here, the CEO added.
Wang Yanhui, secretary-general of the China Mobile Phone Alliance, said Qualcomm had signed patent licensing agreements with more than 50 mainland handset manufacturers and is setting up a research and development team of roughly 1,000 people in Shanghai.
Domestic handset makers, such as Huawei Technologies Co Ltd and ZTE Corp, are all in good relationships with Qualcomm. Jacobs expected these Chinese companies to achieve a similar success with South Korea companies such as LG Corp and Samsung Electronics Co Ltd.
Jacobs said it was very interesting in China that because China issued 3G licenses relatively later than other countries, Chinese mobile phone makers had built up an export market first.
"Then they come back to China's 3G market with rich experience. That's going to help them to achieve a greater success."
In addition to providing high-end chips, which run at a fast speed and have rich functionality, Qualcomm also focuses on low-end mobile chips aimed for the mass market.
"We are driving the price down at that low end to get the mass market smart phone because we really believe that providing mobile broadband very widely to a lot of people is important, not just because of the good business for us, but because it also improves people's lives," he added.
Qualcomm's move to further cut the low-end mobile phone chips could apply more pressure on some Taiwan-based chip makers, such as MediaTek Inc, but the hundreds of small- and medium-sized mobile phone manufacturers in China would benefit from the competition.
The average selling price for smart phones in China is set to fall below the $300 threshold in 2011 for the first time, declining to $299, down 4.9 percent from $314 in 2010, according to a July report from IHS iSuppli.
Domestic smart phone shipments in China will rise to 54.1 million units in 2011, up from 35.3 million units in 2010, the report said.
By the end of 2015, IHS forecasts that Chinese companies will ship 111.6 million smart phones, rising at a compound annual growth rate (CAGR) of 25.9 percent from 2010. In contrast, the global smart phone market will grow at a more modest CAGR of 20.7 percent during the same period.
Jacobs said he is optimistic about China's smart phone market, since the country will see more than half of its mobile phone users holding a smart phone "very quickly".
He pointed out that a huge number of Chinese people want smart phones, given that 66 percent of the Chinese Internet users have gone online on the phone. "That's amazing. If we can get the price of a smart phone to the same level as a feature phone, they will obviously buy a smart phone," he said.
Qualcomm's global annual revenue rose to $11 billion in fiscal year 2010 from $7.53 billion in 2006. The company shipped 207 million MSM chips in fiscal year 2006, and the figure increased to 399 million in fiscal year 2010.
The performance of Qualcomm has fully demonstrated Paul Jacobs' ability to do an even better job than his father. Although he holds a PhD in electrical engineering from the University of California, Berkeley, Paul Jacobs said there wasn't any obstacle to prevent an engineer from becoming a good businessman.
He had his first business when he was still at high school. He and a friend sold skateboards. They had no inventories, so they took orders first, got buyers' money and bought the parts from distributors. Then they screwed all the things together and kept the difference.
When Paul Jacobs went to Qualcomm, he worked in different departments in turn, from applications, to wireless and on to the handset business. "All these different experiences come together, but it wasn't one thing, like a bolt of lightning happened, it was really a set of experiences that built up over the course of my lifetime and my career," he said.
"I was always kind of stretching beyond what I was comfortable with, and I would say that is something for people who want to grow themselves. You have to be willing to be uncomfortable a lot of the time."