Beijing, Aug. 4 (Xinhuanet) -- The former commercial gateway to northern China is today a curious amalgam of architectural styles and has plenty to recommend it, Chitralekha Basu discovers.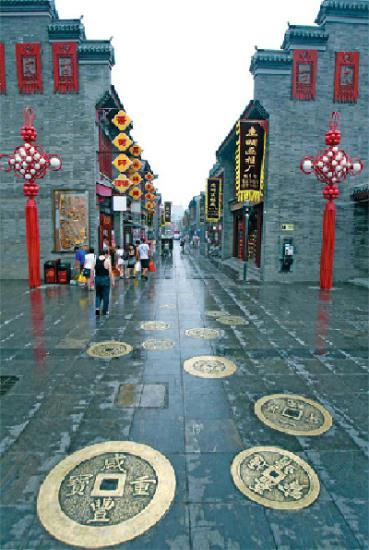 Ancient Culture Street is a 21st century replica of what downtown
Tianjin might have looked like about 100 years ago. (Source: China Daily)
An expat colleague from the United States takes the Beijing-Tianjin express train every other month. It's the sheer thrill of covering a 100 km distance in under 30 minutes, she says. The seats are well spaced, with leg room comparable to business class seating on an international flight, the washrooms are large and spiffy and the journey is super-quick. Not that the fastest train ride linking two megalopolises anywhere in the world is the only thing to recommend about a trip to Tianjin.
Here is a place where it's like taking a step into one century and tumbling into another, experiencing a dramatic change of landscape, sensibilities and ambience, all in the blink of an eye.
The best way to get a taste of journeying across time zones is by hopping on to one of the liners ferrying passengers along the Haihe River.
The cruise will take you past clusters of early 20th century European-style buildings with red awnings, belonging to the Italian Concession area, set off against the grand and sprawling crescent-shaped Tianjin City Planning Exhibition Center, opened as recently as 2009.
The Century Clock, a stone's throw from Tianjin Railway Station, which comes with a quaint S-shaped pendulum and bronze motifs symbolizing the 12 zodiac signs, marks the beginning of Tianjin's trade relations with other nations during the mid-19th century.