TOKYO - Former Japan defender Naoki Matsuda died in hospital on Thursday, three days after collapsing during training from a suspected heart attack. He was 34.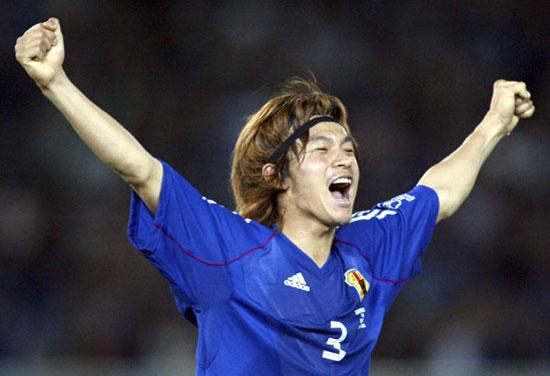 Japan's Naoki Matsuda raises his arms after winning their Group H soccer match against
Russia at the World Cup Finals in Yokohama in this June 9, 2002 file photo.
[Photo/Agencies]
Matsuda, who won 40 caps for Japan and represented his country at the 2002 World Cup, had been put on an artificial respirator after arriving at hospital unconscious on Tuesday.
The president of his JFL (third division) side Matsumoto Yamaga, Hiroshi Otsuki, told Japanese media the club had been informed Matsuda had lost his fight by the player's family.
Medical personnel had rushed to Matsuda's aid early on Tuesday after he collapsed with suspected heatstroke. Yamaga later said the player had gone into cardio-respiratory arrest.
Record temperatures across Japan have caused a rise in heatstroke cases with 43 deaths in the two months through the end of July, according to Kyodo news agency.
Matsuda played 40 times for Japan and made 385 appearances for Yokohama F-Marinos, helping them win back-to-back J League titles in 2003 and 2004.
Editor:Yang Jie |Source: China Daily