Muifa weakened as it heads north after wreaking havoc on coast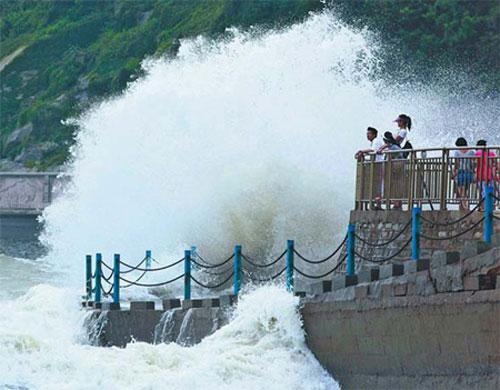 A huge wave strikes at a port in Lianyungang, Jiangsu province, on Sunday. Typhoon
Muifa, the ninth typhoon to hit China this year, is weakening as it moves north along
the country's affluent and densely populated eastern coastline. [Wang Jianmin / for
China Daily]
SHANGHAI / QINGDAO, Shandong - Typhoon Muifa, the ninth typhoon to hit China this year, weakened as it approached the coastal areas of Zhejiang province on Sunday morning, before it turned north to the coastal area of Shandong province.
Eighteen flights departing from or arriving at Qingdao airport on the coast were canceled on Sunday. Most of those flights were headed for southern cities, such as Shanghai or Hangzhou.
Using ropes, police rescued 53 tourists, who were briefly stranded on an island off the port of Qingdao as surging waters submerged a rock bridge linking it to the mainland.
Rizhao, a coastal tourist city in Shandong province, has ordered the closure of all scenic spots and seawater pools to prevent accidents.
Crews working on the off-shore platforms of Shengli Oilfield, China's key oil production base located near Weihai, started to evacuate Sunday.
About 400 migrant laborers from Sichuan province, who were living along the coast in Qingdao, were transferred in an urgent operation on Sunday to nearby primary and middle schools.
The local community service center and the neighborhood committee helped to move the workers on Sunday as the powerful typhoon threatened to hit Shandong Peninsula.
At an emergency meeting before the arrival of the typhoon, Xia Geng, mayor of Qingdao, emphasized that emergency measures must focus on the safety of local residents and tourists. He said that people must be evacuated from danger areas.
With the peak tourist season on now, major tourist activities, especially in the open air, were to be stopped immediately, and delivery of daily living supplies had to be guaranteed, he said.
Warnings about the coming typhoon and the dangers of open-air activities were sent as phone messages, and frequent weather forecasts were broadcast to locals.
All preparations for the 21st Qingdao International Beer Festival, which begins next Saturday, have been halted.
The Qingdao Jiaozhou Bay Bridge, the world's longest cross-sea bridge which recently opened to traffic, was closed as the typhoon drew closer on Sunday night.
If the rainfall brought by Muifa exceeds 100 millimeters, water in 50 out of about 140 large and medium-sized reservoirs in Shandong may overflow, said Du Changwen, head of the provincial water resources bureau.
Xinhua News Agency reported more than 610,000 people were evacuated from threatened areas in Shanghai and the provinces of Fujian, Jiangsu, Zhejiang and Shandong, the country's most affluent and populated areas. More than 62,700 vessels were also ordered to dock in these areas.
No deaths have been reported so far.
The National Meteorological Center said on Sunday that moving at a speed of 25 km/h, Typhoon Muifa was likely to hit land at the eastern part of Shandong Peninsula early on Monday morning.
Muifa, which had been expected to reach land at Shanghai, still caused problems in the city over the weekend.
Despite preparations, gales and rain affected 54 electrical power lines and more than 58 trees in Xuhui, Changning districts, fell and blocked roads.
"Typhoon Muifa didn't create severe damage in the city, but it did affect some districts closer to the coast, such as Fengxian and Nanhui," said Fu Yi, chief executive officer of Shanghai Meteorological Bureau.
In Zhejiang, the rain and strong winds triggered by the typhoon brought down 169 houses, destroyed the harvest of 3,500 metric tons of crops and 121,300 metric tons of aquatic products.
Direct economic losses were estimated at 1.87 billion yuan ($289.9 million), according to the provincial disaster relief agency.
A construction ship carrying seven people that berthed close to Zhoushan, in Zhejiang province, sank on Saturday. Six crew members were rescued and one was missing, local media reported.
Strong winds caused an electrical wire to come loose, cutting the power supply to more than 300 residents in Ningbo.
According to the flood control headquarters of Zhejiang province, by Sunday more than 330,000 people had been evacuated from the province's coastal areas and 30,000 vessels had been forced to return to the port to shelter from the wind.
The tourism industry was also affected in the country's coastal areas.
The 13th China International Beer Festival in Dalian, Liaoning province, was closed on Saturday, two days earlier than the original schedule, to prevent unexpected damage.
An emergency meeting chaired by Minister of Water Resources Chen Lei, also deputy head of the country's disaster relief agency, was held on Sunday in Beijing to arrange prevention measures.
The agency ordered two more provinces - Jilin and Heilongjiang in the Northeast - to increase disaster relief efforts as the typhoon headed toward them.
Related stories
Editor:Yang Jie |Source: China Daily