BEIJING, Aug. 7 (Xinhua) -- Zhejiang Kang'er Lok Electronics Company, a manufacturer of small switches in eastern China's Zhejiang Province, has been operating at half capacity since February.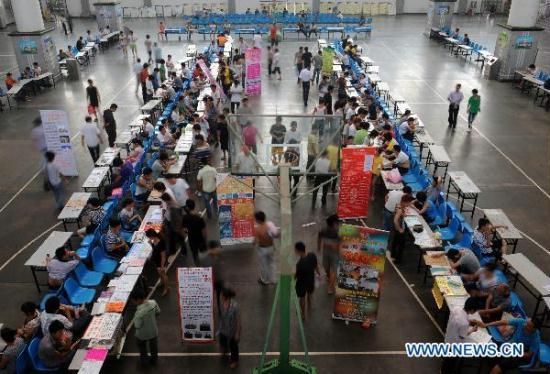 A job market is seen in Yiwu, east China's Zhejiang Province, July 8, 2011. (Xinhua/Han Chuanhao)
"Labor recruitment has been a big headache," said Ke Zhiwu, general manager of the production department of the company, which boasts annual sales of 10 million yuan (about 1.53 million U.S. dollars).
"The company should employ about 350 workers, but we've only managed to hire 150 this year, even after salaries were raised."
Ke's complaint seemed contradictory with the scene at a local job market in Liushi Town, Leqing City, where the switch producer is located: About 30 young and middle-aged job hunters were sitting in a lobby waiting for jobs.
In total, more than 400 people in the town were seeking employment.
The situation is the same in other eastern coastal regions: Employers are struggling to find staff while unemployed workers can't find jobs that meet their salary expectations.
"I can't understand why so many jobless people are just wandering around looking for jobs. They don't seem eager to actually get one," said Wu Zujun, deputy head of the employment service bureau of Yiwu City, another manufacturing base in Zhejiang.
While owners of manufacturing companies are complaining about a labor drought in Yiwu, there have been over 300 people, 500 sometimes, seeking jobs in the market each day since February, said Wu.
"We have 5,000 to 6,000 job opportunities every day. I believe it wouldn't be so difficult if the job hunters really wanted to work," Wu said.