CARLSBAD, California - Agnieszka Radwanska of Poland won her first tournament in more than three years with a 6-3, 6-4 victory over third-ranked Vera Zvonareva at the Mercury Insurance Open final Sunday.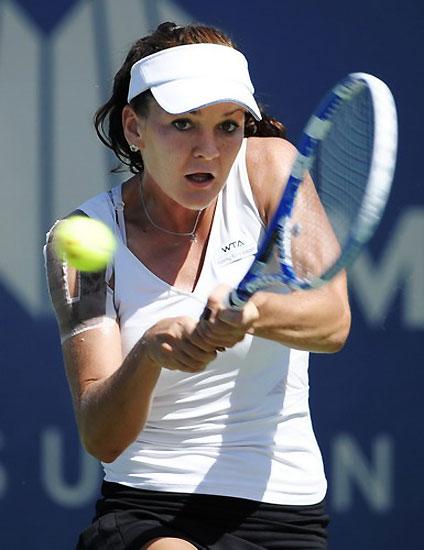 Agnieszka Radwanska of Poland hits a return to Vera Zvonareva of Russia
during their final match at a WTA tennis event in Carlsbad, California
August 7, 2011. [Photo/Agencies]
The third-seeded Radwanska used a steady all-around game and took advantage of Zvonareva's inconsistent play to win her first title since the Eastbourne grass-court event in June 2008.
"I was playing very well," Radwanska said. "I really wanted to win this tournament. I was very focused from the beginning."
Radwanska won despite being hampered by a nerve problem in her right shoulder that limited the speed of her serves. However, she was able to use consistent placement that did not allow her Russian opponent to take advantage. Radwanska never dropped her serve and saved the only two break points she faced.
Radwanska held a big advantage with her serve, making 71 percent of her first serves compared to just 59 percent for Zvonareva.
"I was very surprised that I didn't lose my serve," Radwanska said. "It was actually pretty impressive."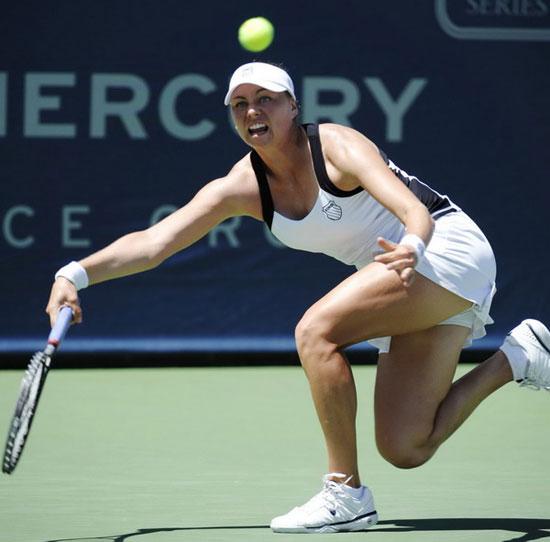 Vera Zvonareva of Russia hits a return to Agnieszka Radwanska of Poland during their final
match at a WTA tennis event in Carlsbad, California August 7, 2011. [Photo/Agencies]
Said Zvonareva: "Her serve wasn't causing me too much trouble, but it was very different from my last two opponents. I didn't get a chance to adjust. I couldn't find my rhythm on the return and so I couldn't put enough pressure."
Radwanska, who earned $111,000 for the win, had one break in each set as she ended Zvonareva's career-best, nine-game winning streak. It was Radwanska's first final since losing here last year to Russia's Svetlana Kuznetsova.
"Playing the Russians in the finals is always tough," she said.
The final figured to be a close match after each player had to win consecutive three-set matches to advance. Radwanska lost the first set in each of those matches.
Radwanska proved to be more steady and had the only break of the first set in the fourth game to take a 3-1 lead. She won the set with a backhand winner down the line.
"She played a really good, clean match," Zvonareva said. "She played the way she usually plays. She just didn't make any unforced errors. I think it was a little bit tough for me physically after (Saturday night's) tough match. I couldn't stay as aggressive as I wanted. I gave her more chances to play her game."
Radwanska scored another early break in the third game of the second set. Serving with a 3-2 lead, she fought off two break points in the sixth game for a 4-2 lead.
Radwanska missed her first match point before closing out the match when Zvonareva hit a forehand long.
"I was playing very well in the semifinals," said Radwanska. "I just told myself that I have to play the same tennis and see how I'm going to be."
Zvonareva, who won a hardcourt event last week in Azerbaijan, lost for the first time this season in her third finals appearance.
Radwanska, who won her fifth career title, is projected to move up one spot in the WTA rankings to No 12.
Related stories
Editor:Yang Jie |Source: China Daily